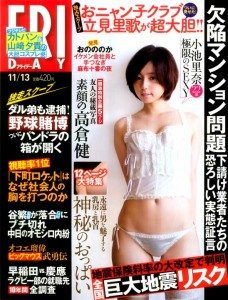 "Inside a suite room of a hotel in Tokyo, the host, going by the name 'Master,' starts the party with a greeting. He has an assistant, 'Umizaru,' who then informs first-timers that alcohol is available, including wine and whiskey. Before long, more than 20 guys are checking over the ladies for the commencement of the partner-swapping battle."
Last month, Kanagawa police filed charges with prosecutors against two organizers of orgy parties that included underage female prostitutes.
The introductory explanation is by a regular customer, as told to Kanagawa police via Friday (Nov. 13), which reports that management also indulged in the festivities.
In September of 2013, Shunichi Tsubouchi, a 27-year-old physical education teacher in Itabashi Ward, and Hajime Toyama, 54, are alleged to have organized an event inside a suite room at a hotel in Bunkyo Ward in which the girl, 16, and another prostitute, 18, performed sex acts with several men.
"The following month, the suspects held a similar party in which another 16-year-old school girl participated," says an investigator.
Over a four-year period beginning in April of 2011, the suspects, who have been charged with violating child welfare and prostitution laws, held events four or five times a month.
The suspects recruited participants for the events through a bulletin board site on the Internet. The girls were paid between 20,000 yen and 80,000 yen.
The appeal of the parties was the low entrance cost.
"Because a typical orgy requires an outlay of between 20,000 and 50,000 yen, the 13,000-yen fee charged at a Tsubouchi event was reasonable," says the aforementioned regular.
At the event that resulted in the arrests, participation was by 30 men and six women, including office ladies and housewives, who were not charged.
Tsubouchi often takes it upon himself to get the party going, continues the regular. "He'll look over at Toyama and shyly utter, 'Master, is it ok?' After getting the affirmation, he'll then drop his pants."
A former classmate tells Friday that Tsubouchi developed an interest in orgy parties while a student.
"Sooner or later, he met Master at one such party," says the source. "They then hit upon the idea of hosting parties together." Thus, Umizaru was born.
After graduation from university, Tsubouchi began teaching physical education. In 2011, right around the time he started hosting parties, he joined his current school.
For Toyama, a neighbor in his apartment building noticed a shift in his behavior, starting about three years ago.
"He became a nocturnal person," says the neighbor. "I'd also never see him with anyone who could be his wife but rather with these gaudy women. I really wondered what kind of job he could possibly have." (K.N.)
Source: "Ranko paati de 16-sai shojo ni baishun sa seta toritsu-chu kyoshi ha 'ore mo yaru,'" Friday (Nov. 13, page 69)
Note: Brief extracts from Japanese vernacular media in the public domain that appear here were translated and summarized under the principle of "fair use." Every effort has been made to ensure accuracy of the translations. However, we are not responsible for the veracity of their contents. The activities of individuals described herein should not be construed as "typical" behavior of Japanese people nor reflect the intention to portray the country in a negative manner. Our sole aim is to provide examples of various types of reading matter enjoyed by Japanese.