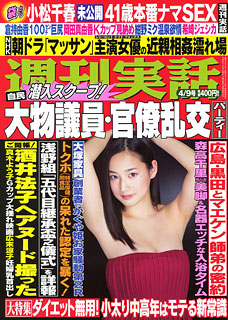 In October of last year, weekly tabloid Shukan Jitsuwa reported on the recent increase in the number of Chinese tourists visiting Osaka's Tobita Shinchi red-light district and the subsequent cultural problems that had emerged.
In an update on the lurid practices of visitors from the Communist nation, the magazine, in its April 9 issue, says the previously reported misunderstandings between guests and proprietors have been generally smoothed over. However, the prostitutes in the brothel quarter are finding things to be still rather rough — quite literally.
Located in Nishinari Ward, the area consists of alleys of brightly lit ryotei structures. In the first-floor doorway of each establishment sits a woman attired in revealing clothing. Next to her is an elderly female proprietor who verbally solicits clients.
Such a setting is very appealing to Chinese guests.
"Tobita Shinchi is a part of a nighttime sightseeing tour for Chinese visitors," says a person employed in Tobita Shinchi. "Because these guys are fans of Japan's adult video industry, there were problems as far as protocol. But any problems with payment procedures and issues regarding manners can be handled via the tour guide."
Yet the ladies employed in the world's oldest profession are really taking a pounding due to the brisk turnover.
"Since I get more than 10 customers per day, I've gotten really sore down there," says a Tobita prostitute. "So I am rubbing on Xylocaine."
According to Shukan Jitsuwa, the ointment Xylocaine serves as a local anesthetic and produces a numbing effect at the applied area. It is often used during dental or surgical procedures and the delivery of babies.
"I can go to a pseudo-doctor near Tobita and get a tube for 500 yen without a prescription," continues the prostitute.
However, the main ingredient in Xylocaine is a form of hydrochloride, which can be harmful if ingested — a concern given the free-flowing working environment.
The consequences can include dizziness, disrupted breathing and loss of consciousness. It can also cause the appearance of a blue or purple coloration of the skin due to a reduction in oxygen. Death is a distinct possibility.
"A while ago, a gal who licked some up by mistake started foaming at the mouth and collapsed," says the aforementioned Tobita employee. "She was transported out in an ambulance. So now we take precaution with the girls."
Prostitutes in the Matsushima Shinchi brothel area, located in Nishi Ward, are also using the drug, says the magazine. "Everyone is aware of the danger that the drug provides," says a Matsushima prostitute.
Men, too, should be careful, advises Shukan Jitsuwa. (K.N.)
Source: "Chugokujin kankokyaku kyuzo de Osaka Tobita Shinchi-jo ga shiyo o semarareru mahiyaku no kiken," Shukan Jitsuwa (April 9, page 206)
Note: Brief extracts from Japanese vernacular media in the public domain that appear here were translated and summarized under the principle of "fair use." Every effort has been made to ensure accuracy of the translations. However, we are not responsible for the veracity of their contents. The activities of individuals described herein should not be construed as "typical" behavior of Japanese people nor reflect the intention to portray the country in a negative manner. Our sole aim is to provide examples of various types of reading matter enjoyed by Japanese.