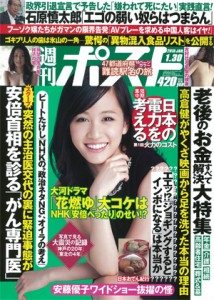 According to a report issued earlier this month by the Japan National Tourism Organization (JNTO), a record-high 13.4 million foreign tourists visited Japan in 2014. This figure represents an increase of 29.4 percent percent over the year before.
The number of Chinese tourists jumped to 2.4 million, a boost of 83 percent. If Shukan Post (Jan. 30) is anything to go by, some of them probably visited the brothel quarter of Yoshiwara.
The area's soapland bathhouses are undergoing a bit of an "internationalization" drive in an effort to woo big spenders from the Communist nation — but at a cost: Female masseuses are often displeased with the mannerisms of Chinese tourists.
A staff member at one such soapland says that Chinese tourists often want to take photographs during the sex sessions.
"They don't return (to China) with only souvenirs, but also with the want to show off photos and videos," says the staff member. "There are frequent inquiries about how much it'll cost to shoot a particular session, and plenty of women fear that images will wind up on the Internet."
As recently as two years ago, tabloid reports indicated that a general ban on visitors from China was in place due to "cultural differences."
Shukan Post makes no mention of any ban being lifted, but certainly friction still exists.
"They have cameras in their bags and jackets," continues the staff member. "So we make sure to put (those items) in the closet to avoid tosatsu (peeping photos)."
The JNTO report also said that tourists from China spent 231,753 yen per person on average last year. In contrast, the average amount for all visitors was a mere 151,374 yen. For the bathhouses of Yoshiwara, some may wonder if the cash is worth the hassle.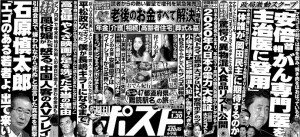 "I heard about one guy who had glasses with big black frames," says the soapland employee. "During the session, he didn't want to remove them. The masseuse suspected that the glasses have a camera inside."
According to a staff member at a different bathhouse, Chinese tourists have more than taking pictures on their minds.
"During the sessions, the Chinese guys will repeat the same phrase over and over," says another soapland staff member. "After consulting with a person who speaks Chinese, the masseuses seem to think that the carnal activities are being used a means of atonement for Japan's brutality during World War II. These guys seem to get really aroused in initiating 'revenge sex' for Japan's invasion of their country." (A.T.)
Source: "Abeno enyasu de taikyo shurai chugokujin fuzoku kyaku no 'tondemopurei,'" Shukan Post (Jan. 30, pages 155-157)
Note: Brief extracts from Japanese vernacular media in the public domain that appear here were translated and summarized under the principle of "fair use." Every effort has been made to ensure accuracy of the translations. However, we are not responsible for the veracity of their contents. The activities of individuals described herein should not be construed as "typical" behavior of Japanese people nor reflect the intention to portray the country in a negative manner. Our sole aim is to provide examples of various types of reading matter enjoyed by Japanese.