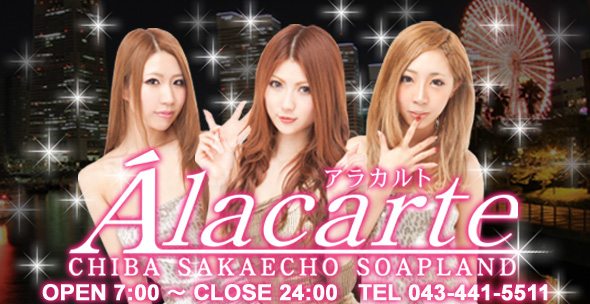 Tokyo Metropolitan Police last week arrested the manager of an erotic bathhouse in Chiba Prefecture after he allegedly employed a 17-year-old girl in October of last year.
Officers took Katsuakira Nakamura, the 39-year-old manager of club A La Carte, a soapland (erotic bathhouse) in Chuo Ward of Chiba City, for violating the Child Welfare Law regarding non-confirmation of age for employment.
An investigator tells Nikkan Gendai (July 13) that the girl, a third-year high school student, utilized the passport of an 18-year-old acquaintance during the application process — a not uncommon means for underage girls to obtain employment in the adult-entertainment industry.
"This girl regularly sought out part-time work in the industry," says the investigator. "This case came to light during an investigation in February into an SM club in Kinshicho, where she also worked. Club managers not confirming the ages of their employees is a problem."
Fuzoku scribe Taizo Ebina says the number of cases is overwhelming.
"Problems are posed by high school girls wanting to work for pocket money," says Ebina. "In an interview, she'll say she does not have a driver's license, but she will show a health insurance card, which does not have a photo, of an acquaintance (over the age of 18). So this is not a real means of age verification."
She will also have a high school yearbook, in which she will explain any discrepancies in her facial appearance as being due to a recent diet she was on.
"She'll have all of the excuses prepared in advance," the writer says.
A La Carte earns 30 million yen per month in revenue. The 17-year-old girl received a total of 400,000 yen during her period of employment.
Ebina says that clubs busted for such infractions are forced to shut down for between 10 and 80 days or, possibly, permanently. If A La Carte receives the minimum punishment that would mean a loss of approximately 10 million yen.
Nikkan Gendai believes the real losing party in this matter to be the girl herself, who told police that she worked at the soapland in order to get enough money to watch a visual-kei music band. (A.T.)
Source: "Joshi kosei yatoi soopu tekihatsu U-17 ni fuzoku sakai ga tsubusaseru," Nikkan Gendai (July 13)
Note: Brief extracts from Japanese vernacular media in the public domain that appear here were translated and summarized under the principle of "fair use." Every effort has been made to ensure accuracy of the translations. However, we are not responsible for the veracity of their contents. The activities of individuals described herein should not be construed as "typical" behavior of Japanese people nor reflect the intention to portray the country in a negative manner. Our sole aim is to provide examples of various types of reading matter enjoyed by Japanese.