On Sunday at approximately 3:30 a.m., Tokyo Metropolitan Police raided bar Dark Night and arrested Daisuke Aoki, the 34-year-old manager, and two other employees on charges of public obscenity.
The obscene aspect, at least in the minds of the police, was that Dark Night, which is termed a "happening bar," provided a venue for patrons to engage in sex with one another.
According to Nikkan Gendai (March 18), the bust signals the demise of a happy hunting ground for Tokyo's married playboys.
A writer covering the fuzoku (sex-related) trade says that the fact that its doors opened at 1:00 p.m. on weekdays made it very popular.
"Frustrated housewives in their 30s and 40s were regulars," says the writer of the establishment, located in the Ueno area of Taito Ward. "It was known as an 'adultery spot.'"
In September of last year, weekly tabloid Friday reported that the president of the insurance firm Hoken Minaoshi Honpo entertained a number of his mistresses at Dark Night.
"Published photos showed him openly going there with [female] co-workers," continues the writer.
In the raid on Sunday, police also arrested seven of the 48 male and female customers (aged between 20 and 66) present on the same charges. Officers also confiscated a number of items of clothing and props, including chains, belts, masks, handcuffs and ball gags.
According to the Web site of Dark Night, which has since been taken down, the club billed itself as offering "a gathering place for those with an abnormal form of desire."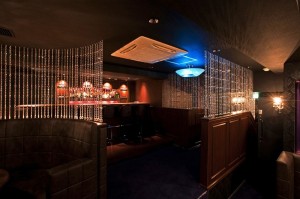 Such a premise proved to be a hit. Entry fees for single men at Dark Night ranged between at 8,000 and 12,000 yen (women were not charged). According to police, sales averaged one million yen per day and totaled 1.4 billion yen since the club opened four years ago.
According to the aforementioned fuzoku writer, customers were attracted to the club offered by its intimate, plush setting of lounge and counter seating. Providing a sense of security was also important: A form of identification was required prior to entry.
The aforementioned writer says the clientele was mostly male.
"For these guys, the secure environment was the reason that there were so many of them were seeking sex with non-professional women for the first time," says the aforementioned writer." 
Source: "14 oku-en arakasegi Ueno no tekihatsu hapubaa wa yumei shacho mo jorendatta," Nikkan Gendai (March 18)
Note: Brief extracts from Japanese vernacular media in the public domain that appear here were translated and summarized under the principle of "fair use." Every effort has been made to ensure accuracy of the translations. However, we are not responsible for the veracity of their contents. The activities of individuals described herein should not be construed as "typical" behavior of Japanese people nor reflect the intention to portray the country in a negative manner. Our sole aim is to provide examples of various types of reading matter enjoyed by Japanese.