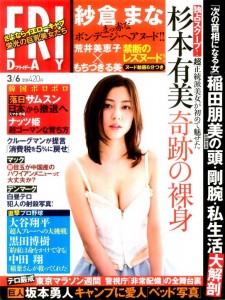 At about 3:00 p.m. on February 14, a young man stopped in at Tokyo's Kitazwa Police Station in Setagaya Ward.
"The girl I'm living with left our apartment at around 10:00 a.m. yesterday and hasn't returned," the man told police.
The police, however, became puzzled when the man could not keep his story straight. At approximately 7:00 p.m. that same evening, officers entered the couple's apartment in the Miyasaka area and found the body of Yumiko Yamaguchi, 24, lying atop a futon.
Later that evening, police arrested the boyfriend, Yudai Hikichi, a 25-year-old struggling private detective, on charges of murder. According to Friday (March 6), it is a puzzling crime allegedly perpetrated by a gumshoe who had reached the end of his rope.
"The victim's body was found clothed in shorts and a sweatshirt," a police source tells the magazine. "The cause of death was suffocation.
The suspect admitted to the allegations.
"During the investigation, Hikuchi said, "From the time she got up in the morning, we fought over living expenses, and I strangled her,'" the source continues.
The couple became acquainted on Twitter in October of 2013. They met in person for the first time about one year later.
"Not longer after meeting, they began living together," says the police source. "The victim was your average office lady."
Fighting was not unusual.
"Can you make a living as a detective?"
"What am I supposed to do, keep working dead-end, part-time jobs?"
At least, that is how Hikuchi tells it.
The suspect took up work in the private detective industry as an independent last summer. He maintains a detective office on the fourth floor of a building near Kyodo Station on the Odakyu Line for which he pays around 100,000 yen per month. With no clients to speak of, he also works a number of part-time jobs to cover expenses.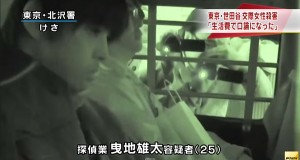 An employee at a big-name detective agency tells the magazine that Hikuchi received training at his company for several days about a year ago. The suspect apparently did not receive high marks.
"After he said he would immediately become an independent detective I became worried," says the employee.
Hikuchi has yet to divulge a motive. After speaking to him eight hours after his arrest, police could only think that the would-be PI had hit bottom.
"He has had nothing to say," says the aforementioned investigative source, "and a psychiatric examination has been ruled as unnecessary."
Immediately after Hikuchi was arrested, a possible arson fire broke out in the neighborhood. Police are investigating whether there is a connection between the two incidents. (K.N.)
Source: "Tokyo Setagaya 'kai-sei nashi' to seme rare kanojo koroshita jisho tantei no mayoeru jinsei," Friday (March 6, pages 84-85)
Note: Brief extracts from Japanese vernacular media in the public domain that appear here were translated and summarized under the principle of "fair use." Every effort has been made to ensure accuracy of the translations. However, we are not responsible for the veracity of their contents. The activities of individuals described herein should not be construed as "typical" behavior of Japanese people nor reflect the intention to portray the country in a negative manner. Our sole aim is to provide examples of various types of reading matter enjoyed by Japanese.