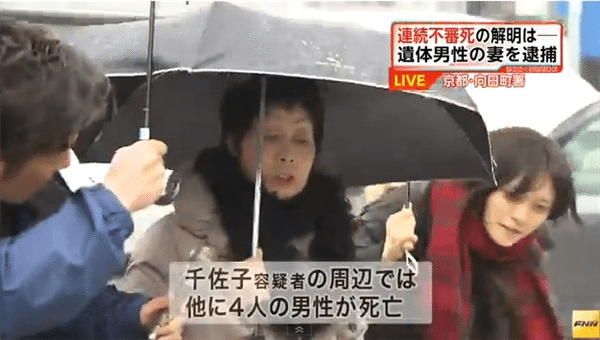 "I didn't kill anyone to receive money."
Kyoto Prefectural Police believe otherwise.
On Wednesday morning, officers arrested Chisako Kakehi, a 67-year-old woman who uttered the above statement, for poisoning her husband last year.
On December 28, Isao Kakehi, 75, collapsed in his home in Muko City and was transported to a local hospital, where he died. They had been married for about one month. A legally ordered autopsy revealed cyanide in his system.
On the same day of the arrest, police informed news outlets that they had found — without saying when — objects containing cyanide and pills to possibly administer the compound in garbage connected to the suspect.
According to Nikkan Gendai (Nov. 21), Kakehi had a connection to five other men who died under mysterious circumstances over the past 10 years — a possible "black widow" case in which the motive was money.
"Including insurance payouts and inheritance, she received between 700 million and 800 million yen," an investigator tells the paper.
However, prefectural police revealed that her bank accounts are mostly empty as much of her inheritance came in the form of non-liquid assets.
"As a former employee at a city bank, Kakehi took great pride in handling money," says a person in the local media. "She invested her inheritance into things like stocks and wound up squandering it. Whereas she used to purchase high-end clothing items and head out on the town, now she is broke."
Kakehi, who has been married four times, has a troubled history with men.
Her relationship with a 71-year-old Osaka man ended on March 9, 2012 after he fell off his motorcycle. The cause of death was ruled to be a heart attack originating from an irregular heartbeat.
Blood taken from the man during the autopsy had been saved by Osaka Prefectural Police, and an analysis also revealed the presence of cyanide compounds.
The other four potential victims died between 2006 and 2013 due a variety of ailments, including a heart problem and a stroke, and ranged in age from 69 to 75.
On Tuesday, police learned that Kakehi had begun to behave erratically, indicating that she wanted to die. Police later confirmed her whereabouts in Osaka on Wednesday.
Kakehi had been under police investigation since at least earlier this year. As well, news outlets had pursued her a number of times to inquire about the suspicious deaths — in which she maintained her innocence each time.
"After all that," says the aforementioned investigator, referring to the overt interest in her, "she still visited a marriage consultation center seeking a new man. As well, as if to say, 'What's wrong?' she was witnessed on several occasions strolling and holding hands with men." (A.T.)
Source: "Kansai renzoku fushin-shi Kyoto no dokufu wa isan 8 oku-en mo sukkarakan jotai," Nikkan Gendai (Nov. 21, page 5)
Note: Brief extracts from Japanese vernacular media in the public domain that appear here were translated and summarized under the principle of "fair use." Every effort has been made to ensure accuracy of the translations. However, we are not responsible for the veracity of their contents. The activities of individuals described herein should not be construed as "typical" behavior of Japanese people nor reflect the intention to portray the country in a negative manner. Our sole aim is to provide examples of various types of reading matter enjoyed by Japanese.