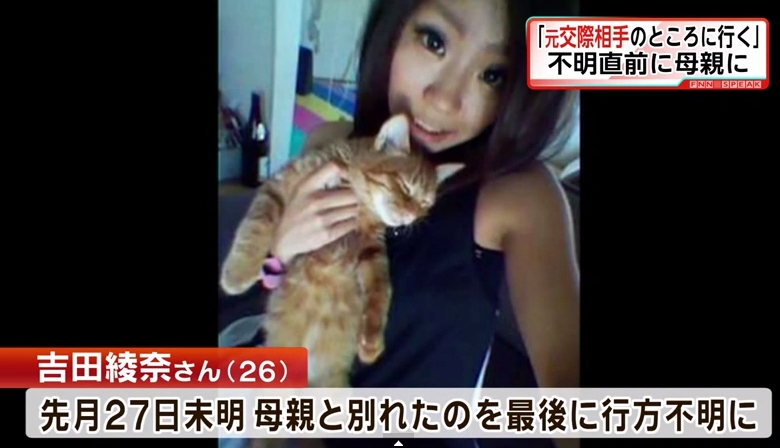 Ayana Yoshida, a 26-year-old woman from Atsugi City, disappeared on October 27.
On Thursday, Kanagawa Prefectural Police announced that her body had been retrieved from the Sagami River in Hiratsuka City the day before.
A report filed by Nikkan Gendai (Nov. 8) wonders if it is yet another case of a stalker committing murder.
"Her head had been beaten on the right side, and the skull fractured," an investigator tells the evening tabloid. "She was discovered lying atop two futons wrapped by a plastic sheet that itself was bound tightly by a rope used for construction work."
The top half of her body was clothed but her underwear had been stripped.
"On top of the futons was a pair of sinkers, composed of stone ballast," continues the investigator. "For a random killer, it was an elaborate setup that certainly gave an impression of cruelty."
But then again, the crime might not have been committed by a random perpetrator.
At midnight on October 27, Yoshida left word with her mother in Yokohama that she was going to pick up her belongings from the apartment of her former boyfriend. She was not heard from again.
According to the investigator, the victim had worked at a salon in Tokyo several months before, and had not experienced any problems.
"However, right before she went missing she sought advice on Facebook about how to cope with being harassed," says the investigator. "According to her friend, she had become frustrated in dealing with a stalker."
Fuji News Network tracked down her ex-boyfriend. "We had no particular problems," he is quoted by the network. "I don't feel like anything had changed (between us)."
The family of Yoshida identified Ayana's body. According to Nikkan Gendai, she had been dead for between five and 10 days before it was found. (A.T.)
Source: "Sagamigawa de itai 26-sai josei ga shi no mae ni uttaeta 'sutokaa higai,'" Nikkan Gendai (Nov. 8, page 5)
Note: Brief extracts from Japanese vernacular media in the public domain that appear here were translated and summarized under the principle of "fair use." Every effort has been made to ensure accuracy of the translations. However, we are not responsible for the veracity of their contents. The activities of individuals described herein should not be construed as "typical" behavior of Japanese people nor reflect the intention to portray the country in a negative manner. Our sole aim is to provide examples of various types of reading matter enjoyed by Japanese.