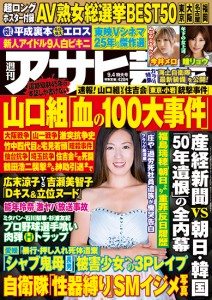 Last Thursday, organized crime members participated in a shooting incident inside a coffee shop in the Nishi Koiwa district of Edogawa Ward.
At approximately 11:30 a.m., an employee at the shop called emergency personnel to report hearing two gunshots after a quarrel erupted among five customers, all of whom were believed to be gang members.
Police arriving at the scene, inside a business district near JR Koiwa Station, discovered two shell casings and three bloodstains. Witnesses indicated that four of the participants departed by a car while the final member escaped on foot.
A reporter from Shukan Asahi Geino (Sept. 4) finds that the shooting is a sign of the tough times yakuza members now face.
When the magazine reached the coffee shop a little over an hour later, police tape had been stretched around outside as a helicopter from a media organization circled above.
"According to police, it was three Yamaguchi-gumi members and two from the Sumiyoshi-kai," says a local news reporter.
Investigators said one of the Yamaguchi-gumi members got drunk and disorderly the evening before at a nearby "snack" hostess club operated by a relative of a Sumiyoshi-kai member.
"The meeting at the coffee shop had been arranged to settle the dispute," continues the reporter.
The matter, however, was not resolved, and that is what lead to the shooting.
"The Yamaguchi-gumi member (who participated in the shooting) had been excommunicated from the gang," says a person affiliated with Tokyo's underworld. "That was also the case of the Sumiyoshi-kai (the other participant). As a result, it was not technically a gang-on-gang dispute."
Thus far, police have made no arrests and a retaliatory move has not taken place.
Shukan Asahi Geino says that the passage of anti-gang legislation is forcing organized crime to clean up their ranks.
"There are more and more members who are being excommunicated from gangs," says the aforementioned insider. "The question is whether these types of incidents will escalate with more and more gang members being cast aside." (K.N.)
Source: "Yamaguchi-gumi vs. Sumiyoshi-kai: Yakuza shakai ga hashitta 'Tokyo Koiwa kenju jiken,'" Shukan Asahi Geino (Sept. 4, page 63)
Note: Brief extracts from Japanese vernacular media in the public domain that appear here were translated and summarized under the principle of "fair use." Every effort has been made to ensure accuracy of the translations. However, we are not responsible for the veracity of their contents. The activities of individuals described herein should not be construed as "typical" behavior of Japanese people nor reflect the intention to portray the country in a negative manner. Our sole aim is to provide examples of various types of reading matter enjoyed by Japanese.