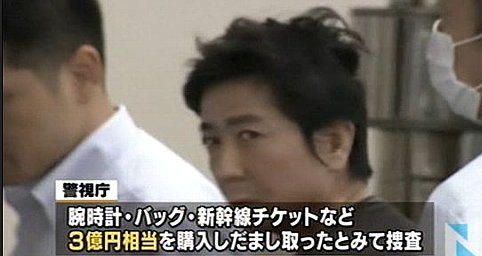 To access this particular apartment from the nearest train station requires the use of a bus. Small and bland, the gray unit has a monthly rent of around 60,000 yen.
Certainly, says Nikkan Gendai (June 28), the residence, located in Mastudo, Chiba Prefecture, is not suitable for a man with a refined taste for high-end hostess clubs.
But here spells the end for Eisei Yamamoto, a 45-year-old former manager in charge of corporate expenses at Mitsubishi Steel.
Tokyo Metropolitan Police on Wednesday arrested Yamamoto for embezzlement of approximately 300 million yen. For six years prior to 2012, the former employee is accused of utilizing 20 corporate credit cards in the names of retired employees to make lavish purchases, including Rolex watches, and visit hostess clubs.
The matter came to light in November of 2012, when a superior noticed a receipt from one of Yamamoto's purchases in a trash can. He was subsequently dismissed from the company, which filed a complaint with law enforcement in April of this year.
Yamamoto took up work at a video shop. In March, he moved to the residence in Matsudo. "Bright, sociable — he gave a good impression," a resident in the neighborhood tells the newspaper.
The owner of the residence says that Yamamoto does not have a wife or child but he lived with a hostess, a woman around 20 years of age who works at a club in Kita Senju, Tokyo.
"He said he was saving money for marriage," says a representative of the owner.
According to police, Yamamoto used the company's cards to buy Shinkansen train tickets worth a total of 145 million yen, which he converted to cash, and presents for female bar employees (valued at 63 million yen).
"He told his girlfriend and others that he was in charge of a division at a big company," says the aforementioned owner. "But by then he'd already been fired. We had no idea he was lying."
The price of protecting pride, no matter how tawdry, is indeed high, clucks Nikkan Gendai. (A.T.)
Source: "Kyaba-jo ni 6300manen mitsugi Mitsubishi Seiko eriito shacho no tenraku," Nikkan Gendai (June 28)
Note: Brief extracts from Japanese vernacular media in the public domain that appear here were translated and summarized under the principle of "fair use." Every effort has been made to ensure accuracy of the translations. However, we are not responsible for the veracity of their contents. The activities of individuals described herein should not be construed as "typical" behavior of Japanese people nor reflect the intention to portray the country in a negative manner. Our sole aim is to provide examples of various types of reading matter enjoyed by Japanese.