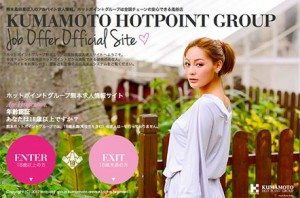 News reports from last week revealed that the Hot Point Group, a nationwide chain of sex clubs, has been accused of concealing income totalling 3.2 billion yen for several years through 2013.
The Osaka branch of the National Tax Agency and others are expected to apply a severe tax penalty to the firm, whose affiliated companies are alleged to have hidden revenue and inflated expenses on tax filings.
According to Nikkan Gendai (Apr. 26), the revelations are be a big blow to the chain, which has established itself as an industry leader.
"Each year, the company spends 1.5 billion yen in print and Web advertising," says a person working in the fuzoku industry. "As well, voice actor Mitsuo Senda serves as a spokesperson for the chain by appearing in ads on billboards. The company is zealous about raising its visibility, and believes in establishing a sense of security with the customer."
The Hot Point Group specializes in "fashion health" services, which typically entails oral sex as administered by masseuses attired in uniforms. Women are dispatched to customers waiting at hotel rooms or residences.
The group has 16 establishments nationwide, including shops in Yokohama, Kobe, Kyoto, Fukuoka and Kumamoto.
This is not the first time the Hot Point Group has been in trouble with the tax man. Seven years ago, the company was accused of hiding 1.1 billion yen.
The owner of the company describes himself as Japan's "Fuzoku King," and is said to have a striking resemblance to actor Takashi Sasano.
"In the late 90s, he became very conscious of postings (about his company) on the Internet," says the aforementioned fuzoku employee of the owner, who is not named.
To avoid negative publicity, he told his employees to always be courteous. He also instructed his ladies to provide personal touches as if they were bar hostesses.
"A hostess will provide a customer with her phone number and mail address," continues the source. "He has his girls do the same thing so they would 'fall in love,' with the strategy being that such a customer would opt for a longer session, possibly costing between 40,000 and 50,000 yen. This provides peace of mind for the ladies, and, as a result, the chain has spread far and wide."
The owner is also aggressive, an acquaintance tells Nikkan Gendai. If he sees a suitable location for a shop, he moves in quickly. "He'll then hire some of the top girls from a competitor," says the acquaintance. "Then, just like that, he'll have established a top shop."
Source: "32okuen shotoku kakushi 'ude koki fuzoku o' ga kyodai guruupu kizuku made," Nikkan Gendai (Apr. 26)
Note: Brief extracts from Japanese vernacular media in the public domain that appear here were translated and summarized under the principle of "fair use." Every effort has been made to ensure accuracy of the translations. However, we are not responsible for the veracity of their contents. The activities of individuals described herein should not be construed as "typical" behavior of Japanese people nor reflect the intention to portray the country in a negative manner. Our sole aim is to provide examples of various types of reading matter enjoyed by Japanese.