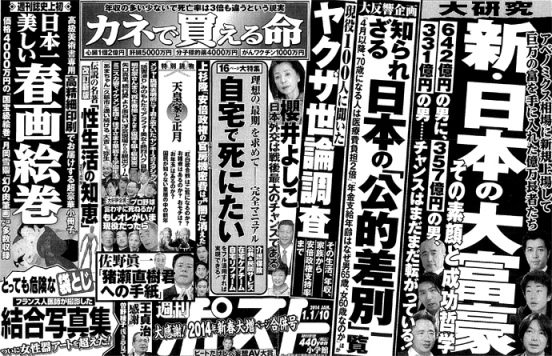 On Thursday, Prime Minister Shinzo Abe visited Yasukuni Shrine in Tokyo to pray, as he said, "for the souls of all those who had fought for the country and made ultimate sacrifices."
Abe quickly received criticism from overseas about the visit to the shrine, which pays homage to Class-A war criminals.
On the home front, Abe had already come under scrutiny following the passage of the controversial Secrets Bill earlier this month. (His support rating has since fallen below 50 percent.)
To be counted among those not pleased with Abe and his policies is Japan's organized crime members.
Writing in Shukan Post (Jan. 1-10), yakuza journalist Tomohiko Suzuki reveals the results of a survey of 100 gang members — including those from the Yamaguchi-gumi, Sumiyoshi-kai and Inagawa-kai — conducted over a one-week period earlier this month.
Since taking office one year ago, Abe has attempted to encourage inflation via a number a policies dubbed "Abenomics." Of those polled, only 19 percent support Abe, while a mere six percent feel that the economy is recovering. When asked if their business is better this year compared to one year ago, only four percent answered positively.
"The yakuza economy is like the tail of an airplane," says a 56-year-old gangster from Tokyo. "For take off we are the last to leave the ground, but then for landing we are the first."
On the subject of nuclear power, which Abe has indicated he supports, gangsters and the prime minister have a common ground.
"Japan cannot stand as a country without nuclear power," says a 57-year-old gangster from the Tohoku area. "If people are not in favor of nuclear power" — as protestors have indicated since the Fukushima disaster began in 2011 — "don't use electricity."
Causing further grief to gangsters has been the government. In October of 2011, legislation that prohibits ordinary citizens from doing business transactions with gangsters went into effect. Of those polled, 98 percent said that they have been negatively impacted.
"You can't get your car checked, photos printed or repairs done on your house," says a 56-year-old Tokyo gangster. "If I use my yakuza name to play golf it is fraud. If I use my real name it is also fraud. There's nothing you can do." (A.T.)
Source: "Geneki 100nin ni kiita yakuza senronchosa," Shukan Post (Jan. 1-10, pages 164-167)
Note: Brief extracts from Japanese vernacular media in the public domain that appear here were translated and summarized under the principle of "fair use." Every effort has been made to ensure accuracy of the translations. However, we are not responsible for the veracity of their contents. The activities of individuals described herein should not be construed as "typical" behavior of Japanese people nor reflect the intention to portray the country in a negative manner. Our sole aim is to provide examples of various types of reading matter enjoyed by Japanese.