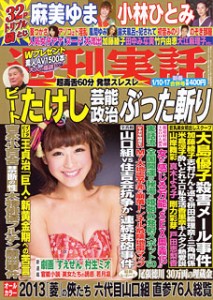 Following revelations that celebrities used blogs to made false endorsements of products on an auction site busted for fraud, hosting company CyberAgent decided that it would take action. On December 22, the company announced that paid-for promotions would be prohibited on its blogging site Ameba.
Weekly tabloid Shukan Jitsuwa (Jan. 10-17) giggles at such a move since one of Ameba's businesses is in paid endorsements by celebrities.
"On the Internet, it is widely known that Ameba is a department store of fakes," says an employee at an advertising agency. "Celebrity blogs move up to the top of Ameba's blog ranking chart. Meanwhile, the entertainers will have a contract with a subsidiary company of CyberAgent. That company then pays the celebs a few hundred thousand yen a month to discuss various products in blog posts."
The employee goes on to say that the popularity of a particular post determines further payouts for the blogger: "It's an easy way to get money for celebrities."
Given the widespread nature of the practice, "it's silly for CyberAgent to take this attitude after the auction incidents," adds the source.
The initial scandal unfolded in December. Osaka and Kyoto prefectural police took the manager of the "penny auction" site World Auction, Ryusuge Suzuki, 30, and three others into custody for allegedly utilizing fake bids to drive up prices on various consumer goods.
Pin-up models Aki Hoshino and Yoko Kumada, both of whom have blogs hosted on the Ameblog service of Cyber Agent, entered the spotlight since they received payments for making false claims regarding household products — an air filter for Hoshino, an oven range for Kumada — purchased cheaply on World Auction.
Model Jun Komori, 27, comedian Yuji "Peace" Ayabe, 35, and 34-year-old actor Masaru Nagai have also admitted to having made similarly fake endorsements.
Shukan Jitsuwa found one man who had asked his daughter, a famous blogger, to promote products and events for his company. But he was turned away by a subsidiary company seeking a fee. The editor of a women's magazine made a similar request to his wife's younger sister and received the same demands.
The tabloid says that such practices are not limited to the entertainment world. "Blogs by amateur models and hostesses also post fake articles," says an employee at an amateur modeling agency. "Many more than a few girls can earn more than one million yen by writing about cosmetics and accessories. It's easy, so I become frustrated that an increasing number of girls are choosing this kind of work (instead of doing regular modeling with my company)." (A.T.)
Source: "'Penioku sodo' de totsujo ameburo ga hajimeta 'geinojin uso burogu bassoku kyoka' no giman," Shukan Jitsuwa (Jan. 10-17, pages 57-58)
Note: Brief extracts from Japanese vernacular media in the public domain that appear here were translated and summarized under the principle of "fair use." Every effort has been made to ensure accuracy of the translations. However, we are not responsible for the veracity of their contents. The activities of individuals described herein should not be construed as "typical" behavior of Japanese people nor reflect the intention to portray the country in a negative manner. Our sole aim is to provide examples of various types of reading matter enjoyed by Japanese.