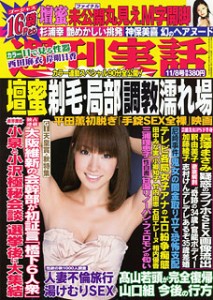 Stability in the street price of speed is causing organized crime groups to traffic in drugs of similar chemical composition known as "legal herbs." The use of which has recently resulted in a string of harmful incidents, reports Shukan Jitsuwa (Nov. 8).
On October 10, a first-year high school girl (16) was struck and killed in Kasugai City, Aichi Prefecture by the driver of a van. A search of his car revealed a stash of legal herbs. The suspect, Yuya Horita, 30, admitted to officers from the Kasugai Police Station that he was under the influence of legal herbs, and he was charged with vehicular manslaughter.
Three days before, a 41-year-old man started to act violently at his home in Kikugawa City, Shizuoka Prefecture and died. Law enforcement reported that he, too, was under the influence of the same type of drug.
The Ministry of Health, Labor and Welfare defines legal herbs to be plant leaves that have had chemical substances with similar structures to banned drugs applied. Usage started to spread through Japan about a decade ago. When inhaled, the user will hallucinate or become physically excited.
To thwart the spread of these drugs a revision last year to the Pharmaceutical Affairs Laws banned six additional chemicals. In July, another nine substances were added.
Chemicals, however, are exempt from these regulations if they differ in the slightest from the banned substances, and organized crime groups are currently trafficking in these quasi-legal drugs.
Shukan Jitswa says that on October 4, two men — Keio Ohara (66) and fisherman Takashi Maehara (56) — were arrested by Okinawa and Fukuoka prefectural police in Minamidaito, Okinawa Prefecture for smuggling 20 kilograms of banned substances with a Taiwanese boat.
On September 6, the body of an organized crime member who was being investigated for offloading the contraband from the ship with a truck was found in a sugarcane field in Minamidaito in what investigators have ruled to be a suicide.
Shukan Jitsuwa says that the drugs were of the type used as raw materials in the making of legal herbs. In spite of the bust, an investigator tells the tabloid that "the risk for organized crime groups in entering the market for these loophole drugs is small. The drugs are herbs in name only. Dry leaves are mixed with the chemicals and other flavorings are added to give it a scent."
The official adds that over the last several decades the price for shabu, or speed, has stabilized with a profit unlikely: "So if you use the speed-like chemicals in making the legal herbs drugs the risk of a bust is small and a chances for a profit much higher." (K.N.)
Source: "Kakuseizai no atai ga atamauchi dappo doraggu jiken tahatsu no riyu," Shukan Jitsuwa (Nov. 8)
Note: Brief extracts from Japanese vernacular media in the public domain that appear here were translated and summarized under the principle of "fair use." Every effort has been made to ensure accuracy of the translations. However, we are not responsible for the veracity of their contents. The activities of individuals described herein should not be construed as "typical" behavior of Japanese people nor reflect the intention to portray the country in a negative manner. Our sole aim is to provide examples of various types of reading matter enjoyed by Japanese.