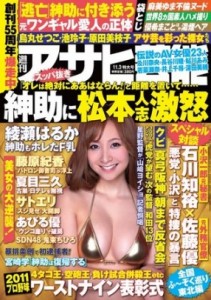 The Minami entertainment district of Osaka has seen a serious growth in the sales of drugs designed to fall within a legal gray zone, but law enforcement might get the upper hand with a new law, reports Shukan Asahi Geino (Nov. 3).
"Legal herbs" have documented adverse effects, but there are no laws regulating their possession and utilization, which has put law enforcement in a difficult position.
"America-mura is known to be an area for drugs," says a news reporter covering the society beat. "There are 20 clubs situated there, an area smaller than Shibuya, and many often receive illicit drugs, like weed, from foreigners. Pedestrians are approached out of nowhere for possible transactions."
Dating back approximately one year, shops with signs reading "specializing in legal herbs" began to emerge. Now about 10 can be spotted in one area. With prices in the range of 1,000 to 3,000 yen per gram, most users are teenagers and those in their 20s.
The Ministry of Health, Labor, and Welfare defines "legal herbs" to be tea leaves that have had chemical substances with similar structures to banned drugs applied. Usage started to spread through Japan about a decade ago. When inhaled, the user will hallucinate or become physically excited.
A writer from a magazine that specializes in non-fiction stories tells the tabloid, "You can easily buy the drugs online or at shops. You can even spot them in Tokyo in areas like Shibuya, Shinjuku, and Ikebukuro. It also seems like sales are expanding to suburban areas."
Some are brazenly inhaling the drugs in front of police boxes, the article reports. "You cam spot regulars smoking and sitting on benches just outside a shop," says the same society reporter.
While the pharmaceutical law prohibits inhalation, most shops sell them as they would incense. This makes it difficult for police to issue citations.
That might change.
Sales volumes and prices went up during this past August and September. "Suppliers started to unload inventories before a revised pharmaceutical law was to go effect on October 20," the writer from the same magazine is quoted.
The revised law added six chemicals, which will force most makers of legal herbs to change ingredients. Suppliers were subsequently forced to clean out inventories.
"They also started to supply drugs containing ingredients yet to be regulated," continues the reporter. "What is scary is that suppliers themselves are not fully familiar with these ingredients. We hope this does not result in a rash of health-related incidents due to serious side effects." (K.N.)
Source: "Ame-mura de 'taima modoki' doraggu ga dairyukochu keikan no mae de wakamono ga dodo to genkaku torippu shite," Shukan Asahi Geino (Nov. 3, page 58)
Note: Brief extracts from Japanese vernacular media in the public domain that appear here were translated and summarized under the principle of "fair use." Every effort has been made to ensure accuracy of the translations. However, we are not responsible for the veracity of their contents. The activities of individuals described herein should not be construed as "typical" behavior of Japanese people nor reflect the intention to portray the country in a negative manner. Our sole aim is to provide examples of various types of reading matter enjoyed by Japanese.