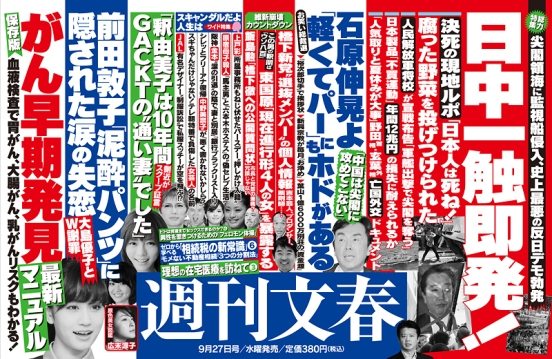 The suspect who earlier this month is alleged to have murdered his live-in girlfriend and her son before killing himself was in financial trouble, reports Shukan Bunshun (Sep. 27).
On September 17, the body of 61-year-old company president Yoshio Nakazawa was found on a mountainside in mountain in Chino, Nagano Prefecture in what police are considering to be a suicide. Four days earlier, investigators believe he killed Midori Sakaki, 38, and her 5-year-old son, Shunnosuke, inside the high-end apartment they shared in the Harajuku district of Tokyo's Shibuya Ward.
In the early morning hours of September 13, Nakazawa phoned a relative. "I killed two people," he said. That relative in turn phoned police, who after arriving at Nakazawa's unit in the Bliss Beige apartment building discovered the two bodies lying face-up in the bedroom and a note, which read, "I will follow them."
"Midori's cause of death was strangulation," says a reporter on the police desk. "The cause of death for the son is unknown."
A security camera recorded Nakazawa's Mercedes Benz leaving the building's parking garage at 4 a.m. that day. On September 14, that vehicle was discovered at a parking lot in Chino. Investigators then commenced a search of the area.
Nakazawa, who managed restaurants and bars in Tokyo and owned a horse-riding club in Saitama Prefecture, had been a wealthy man. Nikkan Gendai reports that rents for the 88 units inside the Bliss Beige complex can reach 1 million yen. Yet he had struggled during the current economic downtown.
A friend of Nakazawa tells Shukan Bunshun that he was the second of three sons and in charge of taking care of his parents. "After graduating from university, he entered the restaurant industry," says the acquaintance. "He used to be very well off, and maintained quite a number of fancy cars. He was married to model-type wife with a daughter, but later they divorced."
A restaurant worker tells the tabloid that Nakazawa's girlfriend was a Roppongi hostess, having in the past worked for a very famous club. "This year, Midori joined a (different) Roppongi club, but was only working on a sporadic basis," says the writer. "She looked great for her age and maintained a glamorous atmosphere around her, and it didn't seem like she was working to make ends meet."
About eight years ago, Sakaki became the director of a company that Nakazawa owned. During this time, they managed a horse together and participated in overseas riding tours together. Nakazawa also owned a race horse.
By 2005, the pair were living together in an upscale residence in the Roppongi Hills complex in Minato Ward and were members of a riding group. "She used the name Nakazawa so everyone assumed they were married," says the director of the group.
A different friend says that Nakazawa started to hit a financial wall about two years ago. "He received a bank loan and started a dining bar in Tokyo, but it failed," says the acquaintance. "Losses totaled 400 million yen. Because of this he couldn't pay the rent for other restaurants and was forced to close two of them."
The source adds that Nakazawa regularly took Sakaki and her child to Okinawa for vacations. "If a business is in trouble, it makes sense for a president to sell off assets, like cars," says the friend. "But he wouldn't do that. It seemed to hard for him to lower his status."
Source: "Harajuku boshi satsuji 'umanushi otoko' to 'Roppongi hosutesu' no nise sereub seikatsu," Shukan Bunshun (Sep. 27, pages 161-162)
Note: Brief extracts from Japanese vernacular media in the public domain that appear here were translated and summarized under the principle of "fair use." Every effort has been made to ensure accuracy of the translations. However, we are not responsible for the veracity of their contents. The activities of individuals described herein should not be construed as "typical" behavior of Japanese people nor reflect the intention to portray the country in a negative manner. Our sole aim is to provide examples of various types of reading matter enjoyed by Japanese.