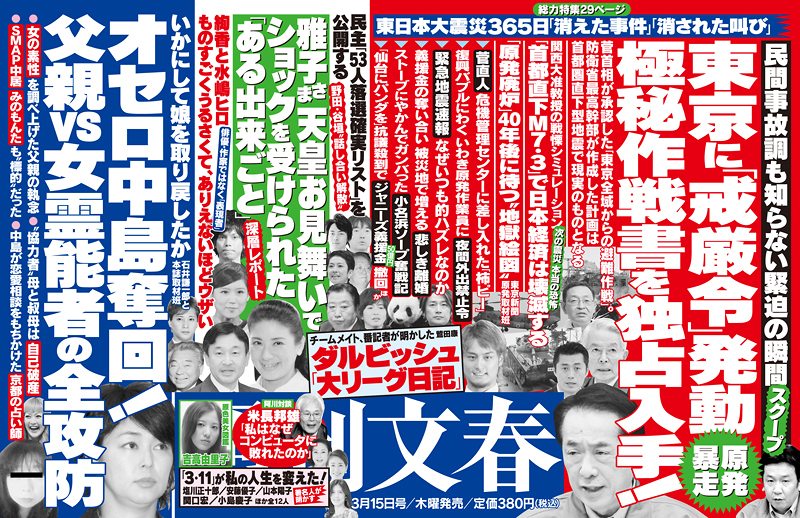 "The other day on the train, I ran into a chikan (groper). The more I resisted, the worse he made things for me. When I felt his fingers creeping between my legs, it became hard to breathe."
Here we go again, with another fervid feminine fantasy, this one out of the January issue of the woman's reader-contribution magazine Renai Tengoku, as introduced in Shukan Bunshun (Mar. 15).
"His other hand, without the slightest hesitation," the writer continues, "began undoing the buttons on my blouse, one after the other. His fingers went straight to my nipple, and using light palpitations soon had it hard.
"My lower abdomen felt as if it were aflame, and at the point where I couldn't stand it any longer, I let out a low moan. The train's doors opened just before my eyes, and I dashed out and ran straight into the ladies' room, where I thrust my fingers into myself and shuddered with an orgasm.
"I still take the same train as before, still hoping I might encounter those hands again. And I bring along an change of panties, just in case."
This pseudonym for this installment is "Shii yuu aegein," a pun on "See You Again," Miley Cyrus's 2007 hit song about a couple who had encountered love in a previous incarnation. Here, the aege in "aegein" is written with the character 喘ぐ (pronounced aegu) meaning to pant hard or moan, and thereby punning the song title to mean "See you panting."
Source: "Shukujo no zasshi kara," Shukan Bunshun (Mar. 15, page 99)
Note: Brief extracts from Japanese vernacular media in the public domain that appear here were translated and summarized under the principle of "fair use." Every effort has been made to ensure accuracy of the translations. However, we are not responsible for the veracity of their contents. The activities of individuals described herein should not be construed as "typical" behavior of Japanese people nor reflect the intention to portray the country in a negative manner. Our sole aim is to provide examples of various types of reading matter enjoyed by Japanese.