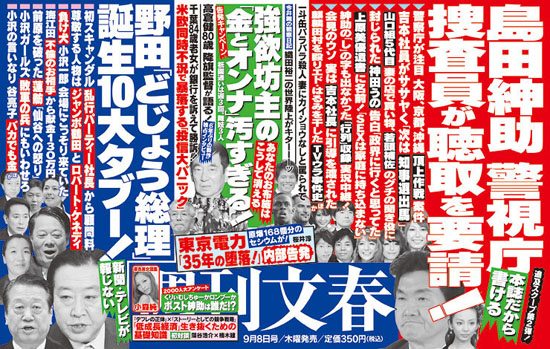 "My boyfriend was so busy, he repeatedly cancelled our dates, and we finally wound up on a 'date' at his house, watching DVDs together. We were slouching on the sofa and he had his hands around my waist. It felt so good! Having gone so long without any lovin', my expectations were soaring."
Thus begins an inspired amateur account of lusty romance from the June edition of ladies' magazine Renai Tengoku, as introduced in Shukan Bunshun (Sept. 8).
"Then suddenly — you're never gonna believe this — his cell phone rang and he got summoned to an urgent job. He dashed into the other room to change his clothes, and there I sat, wallowing in shock and disappointment.
"Then without really thinking, I began to fondle myself down there, and could feel my secretions dripping over my fingers.
"Suddenly I heard him exclaim, 'Are you really so wet!?' While in the midst of getting myself off, I hadn't even noticed he was standing there, right in front of me.
"Oh good grief, masturbating right in front of me, and without even giving me a thought," he scolded me, and I felt completely humiliated. But actually the whole thing had been a ruse on his part — a 'penalty game' to trick me into masturbating in front of him."
For the writer's byline this week, Bunshun's unabashed punster came up with a name well suited to the end of this year's sweltering summer: "Netchuu chitai," which is normally written with characters that mean "the tropics." But here the characters 地帯 chitai have been changed to 痴態, which preceded by netchuu would mean "steamy silliness." (W.W.)
Source: "Shukujo no zasshi kara," Shukan Bunshun (Sept. 8, page 91)
Note: Brief extracts from Japanese vernacular media in the public domain that appear here were translated and summarized under the principle of "fair use." Every effort has been made to ensure accuracy of the translations. However, we are not responsible for the veracity of their contents. The activities of individuals described herein should not be construed as "typical" behavior of Japanese people nor reflect the intention to portray the country in a negative manner. Our sole aim is to provide examples of various types of reading matter enjoyed by Japanese.