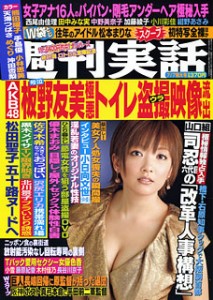 Numerous news reports have documented the flight of foreign residents out of Tokyo following the Great East Japan Earthquake, and weekly tabloid Shukan Jitsuwa (July 7) takes an interest in the select group of Chinese females who fled to the Kansai area and now work at cut-rate massage parlors.
These illegally-operated establishments, which appear legit but offer hand-jobs, are mainly in Osaka's Minami entertainment district.
"In the aftermath of the earthquake, only negative news reached mainland China," says the operator of a Minami fuzoku joint. "A rumor going around said that 60 to 70% of Osaka-based Chinese took off. That left some shops with staff shortages, but there was also a sudden migration of girls from Tokyo."
The magazine reports that there have been about 15 new shop openings within the Namba area and the border of Nipponbashi.
Prices are attractive. "Parlors with individual rooms require a minimal investment," the same owner quoted earlier explains. "A simple curtain divides the rooms. Interior design costs are small, and staff members can be found to work for as low as 2,000 yen for an hour. So once a parlor can generate substantial revenue via intense customer rotation, they can minimize service fees."
Therefore, a 2,980-yen charge for a massage and extra hand services for a half-hour is something Japanese-staffed parlors cannot match. One particular parlor offered body-washing as an added service and only charged 10,000 yen for 90 minutes.
And besides attractive personnel costs, advertising and recruitment outlays are kept in check. A sign posted in the street or an ad on the Internet will suffice. For recruitment, shops either utilize established relationships or place ads in Chinese newspapers, which charge about 15,000 yen. Japanese-staffed parlors will spend about a half-million yen a month for advertisements.
And the Japanese are taking note.
"It's no longer true that Chinese shops are lagging behind in services," says a fuzoku writer. "Girls who love Japan more than their country remained here and are working with great diligence. Their mannerisms and services easily exceed those of Japanese. While some Chinese parlors had some shady ways of charging customers, they are becoming accepted in Osaka."
Nonetheless, these are illegally-operated parlors, warns the tabloid, and a crackdown by the police may by a real Shanghai surprise. (K.N.)
Source: "Shinsai atokara gekizo suru Osaka Minami no 'nuki ari' iho chukokujin esute," Shukan Jitsuwa (July 7, page 38)
Note: Brief extracts from Japanese vernacular media in the public domain that appear here were translated and summarized under the principle of "fair use." Every effort has been made to ensure accuracy of the translations. However, we are not responsible for the veracity of their contents. The activities of individuals described herein should not be construed as "typical" behavior of Japanese people nor reflect the intention to portray the country in a negative manner. Our sole aim is to provide examples of various types of reading matter enjoyed by Japanese.