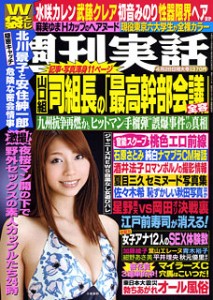 In the aftermath of the Great East Japan Earthquake of March 11, there have been no shortage of first-hand accounts that recall details of the tragedy.
For weekly tabloid Shukan Jitsuwa, that has meant focusing on tales from the commercial sex biz. This week (Apr. 28) it seeks out the manager of Tohoku's largest deri heru operation (that is, a service that operates on an out-call basis), which has introduced a special campaign to inspire the struggling industry.
The manager of the Sendai branch of Okusama Tetsudo 69, which specializes in delivering married ladies to hotel rooms, tells the magazine that once the quake struck a PC flew off a desk, books tumbled from shelves, and fluorescent lights fell from the ceiling.
(The club's Web site indicates that it was forced to suspend regular business until April 2. It also shows that basic services start at 16,000 yen for 70 minutes.)
"Seven staff members went under desks," the manager continues. "Needless to say, it was the first time to experience an earthquake of such a magnitude, and during that time I couldn't think about anything else."
The manager then evacuated to the nearest elementary school but became concerned about the ladies under his employ. Taking some risk, he went back to the office and attempted to reach all his girls through their mobile phones as land lines were out of order.
A lady who was with a customer at a hotel told him, while in tears, "there was such a shock and trembling that I am afraid to go outside." In the end, it was the customer who set her at ease by saying that everything would be fine.
There were also ladies who were on their way to see clients, some of whom were at Sendai Station inside a department store. It was a frightful scene, the manager was told, as the lights were out and nobody could go outside. One woman was trapped in an elevator. She kept mailing the manager, and he replied by saying, "stay calm, an engineer will reach you momentarily."
"Most of our ladies are typical housewives so they were concerned about their kids waiting at home," he continues. "But subway and JR lines were suspended so some clients were kind enough to escort our ladies to their residences."
Shukan Jitsuwa says that 140 ladies are employed at Okusama Tetsudo 69 and that it took the manager four to five days to reach them all. While some lost their homes and are in evacuation centers, they all survived. With some now starting to return back to work, the manager has been going around to supermarkets to secure food for them.
He has recently sensed a rejuvenation within the town, a contrast to the conservative behavior that was favored immediately following March 11. To do its part, his operation is offering various no-charge specials — including an extension of services for 10 minutes and the use of remote-controlled vibrators — between April 15 and 20 under the campaign: "Tohoku Reconstruction Assistance."
"Sex business operators also want to make a serious push in this way," the manager says. (K.N.)
Source: "Sendaishinai hitozumaten panikku! Sono toki kyaku to jugyoin wa…," Shukan Jitsuwa (Apr. 28, pages 34-35)
Note: Brief extracts from Japanese vernacular media in the public domain that appear here were translated and summarized under the principle of "fair use." Every effort has been made to ensure accuracy of the translations. However, we are not responsible for the veracity of their contents. The activities of individuals described herein should not be construed as "typical" behavior of Japanese people nor reflect the intention to portray the country in a negative manner. Our sole aim is to provide examples of various types of reading matter enjoyed by Japanese.