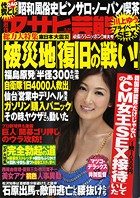 Weekly tabloid Shukan Asahi Geino is likely not the first publication one might peruse for updates on the ongoing developments following the Great Tohoku Earthquake — that is, unless there is an interest in how the region's sex-related establishments are faring.
In its March 31 issue, the tabloid somewhat surprisingly reports that Miyagi Prefecture's biggest adult entertainment area in Sendai is functioning on a limited basis.
The lifelines of Sendai, which has suffered greatly following the March 11 earthquake and subsequent tsunami, are starting to come back to life. Shops have begun to operate as their utility services are gradually being restored.
From the area's largest red-light district, Kokubuncho, located in the city's Aoba Ward, a reporter tells Asagei that electricity and water services are slowly coming back to life. "Some shops have started to sell yakitori on the streets during the day," the source adds. "A convenience store has reopened and there are long lines. Ladies can be seen wearing make-up and sporting mini-skirts. We are beginning to see the light."
However, only some entertainment establishments are in operation during the evening.
"A few bars are open, but they don't have any food, only drinks," continues the same reporter. "Only one kyabakura club is open, and the three hostesses who were able to show up for work were accommodating ten customers. These guys looked to be locals in their 40s and 50s."
During the Great Hanshin Earthquake of 1995, soaplands offered their bathtubs to those impacted by the disaster. Sendai, the tabloid postulates, has not yet reached that stage.
In midst of this, however, deri heru joints (out-call sex operations) are functioning, with some even offering housing to displaced female staff members. The magazine advises that services are limited to the central part of the city.
One of them is Celeb Garden, which began operation four days after the earthquake.
"While customers are calling, we are just operating on a limited basis," says a representative of the club, whose Web site offers a hotel plan that starts at 17,000 yen for 70 minutes. "Unfortunately, out of 100 girls, there are a few whose whereabouts we cannot confirm. I just wanted to reassure them by opening the office to offer them a place to stay if they had lost homes."
The manager at club S-style tells the tabloid that they are also trying re-establish contact with some female employees. "One of our girls lives in the central section of Sendai," says the manager of the club, which has been steadily receiving reservations from customers. "She encouraged me by saying that the club has to keep moving forward. Our competitors may be closing their shops, but we cannot let all the lights go out in Sendai." (K.N.)
Source: "Hisaichi no kanrakugai ha ima Sendai de deri heru eigyo shite ita!" Shukan Asahi Geino (Mar. 31, pages 34-35)
Note: Brief extracts from Japanese vernacular media in the public domain that appear here were translated and summarized under the principle of "fair use." Every effort has been made to ensure accuracy of the translations. However, we are not responsible for the veracity of their contents. The activities of individuals described herein should not be construed as "typical" behavior of Japanese people nor reflect the intention to portray the country in a negative manner. Our sole aim is to provide examples of various types of reading matter enjoyed by Japanese.