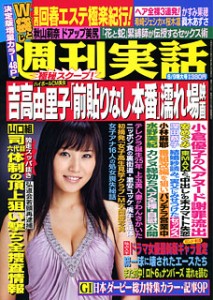 "It changed the way that men and women meet" — a bold statement indeed, and weekly tabloid Shukan Jitsuwa (June 9) is paying tribute to that game-changer, the terekura, which this year turns 25, or thereabouts.
For the uninitiated, and within SJ's readership there are few meeting that criteria, a terekura (telephone club) operation includes a room or booth with a phone that men pay to enter and receive calls from women interested in going on dates if the terms are suitable.
"For enjoyment and making money, the fundamental rule is to let guys flirt with you," explains 43-year-old Hanayo, who started at such clubs from the age of 17.
"The guy was around 40," she remembers of her first encounter. "He was a good talker and made me give my virginity to him. He told me he knew how to do it without pain."
Feeling that she had offered up something important, Hanayo decided to extract a bit of revenge through the clubs. "I was getting paid 30,000 yen just for a dinner date," she says. "But there were times when I had to put out. Three steps forward and two steps back; three wins with two losses." She wound up in the terekura world until she finished community college.
Fuzoku journalist Yukio Murakami, who has been following the practice since it began, says that at the start — roughly at tail end of the Showa Period (1926-1989) — money was not a prime motivating factor. "Money might have been used, but only as a thank you for getting someone to listen," says the sex scribe. "Housewives would complain about being lonely or about their husbands. High school girls were also making calls purely out of interest. Before the laws were changed it was really simple to meet high school schools."
For Hanayo, she joined an office after college and worked the company's messaging system. It wasn't long before her competent skills with a phone and the bursting of the bubble economy led her back to the clubs. But the number of men seeking sex at low rates had increased.
When she hit 30, she entered into an arranged marriage. Now she has two kids, and she resumed hunting for clients three years ago, when they had grown up. "These days I go to singles bars in Roppongi and museums to wait for guys to hit on me," she says. "I start at 20,000 yen. Sometimes it goes up to 100,000 yen. You know, I still have the skills for targeting the right men."
Saori, 37, says that girls of the Heisei Era (1989-Present) had the choice of the terekura or its sister endeavor, the burusera shop, which bought and sold used women's under garments.
"Gals who didn't want to provide full service went to burusera joints," says Murakami. "Panties were sold for 5,000 yen each. If there were from a famous school, the price was 10,000 yen. Girls brought in their identification cards and took off their undies in front of customers. This sort of thing was mainstream then."
Saori claims that her life changed after her first 5,000-yen sale. "Since then, I would wash a new pair once and wear it for two to three days straight," she says. "I sold everything, including my swimsuit. Twice a year I submitted a form to my school stating that parts of uniform had been stolen. I think I made about one million yen just by selling socks."
When she reached 20, use of the Internet increased. "It was around that time that these shops started getting cited," Murakami says. "Shops were using online sites to show panties said to be authentic, and some girls were providing Polaroids of their private parts or pubic hair as promotion."
Saori stayed in the panty-selling business even after she got married at the age of 25. Today she has three kids and has expanded into doing online chats. "While I cannot make money like I used to," she says, "it is still better than typical part-time jobs. Regulars these days ask for shots of me inserting dildos."
In 1994, a dating club (an enkokurabu) that utilized a Dial Q2 pay service for recruitment was busted. It was from this time that enjo kosai, or compensated dating, became a mainstream phrase, and Eiko, today 35, thought she could make some easy cash.
"A dinner date, some upskirt play, and then a hand-job at a karaoke box — that meant between 10,000 and 30,000 yen," she remembers. "I quickly quit my 9-to-5 job and kept wearing a sailor-school uniform until I was 23."
But Murakami adds that operations using Dial Q2 and party lines, which were derived from the terekura, were getting shut down over charging excessive fees. "Most of the online dating started going through online bulletin boards," he says. "AOL, which required credit card payment and an ID check, was popular. All these girls looking for dates online were really amateurs. Then mobile phones came along, and now we have SNS. There has been a real transition in communication over the past 15 years."
After retiring her school uniform, Eiko joined as many bulletin boards as possible. "That era was the best," she gushes. "Posts reading '30,000 yen for dinner only' drew many quick responses. Perhaps the economy was good. The highest it reached was 160,000 yen."
Eiko is actually an attractive lady, Shukan Jitsuwa assures, so her beauty helped. She then utilized SNS as soon as it was introduced since she sought a patron — more or less a sponsor. "Actually I met my husband in this way," she says. "We were a good match." He has a large income, but she still likes being wanted and continues to play via SNS. "It makes me wet when I know that I will be invited by a gentleman, bought by money, and done in a wild manner," she says.
Then there is Kishiko, 41, who had sex for the first time when in middle school. Since then, she's been hooked, and the terekura was a great option for her in the 1980s. "I wanted to do it once a day," she says. "Even during a high school trip, I utilized a local terekura and did it with three guys. One time I met a janitor from my school. After that, he let me do it in his office."
Murakami, however, argues that married women were more popular back in the terekura heyday. "After three years had passed, high school girls started to demand money," he says. "But when the men paid, the sex wasn't fun. It was much better to have sex with a wanting married women without money. There were more men who preferred that." (A.T.)
Source: "Terekura tanjo 25 nen no ima. igai na anaba enko sedai no jodama bijinzuma ga wansaka ita!" Shukan Jitsuwa (June 9, pages 198-201)
Note: Brief extracts from Japanese vernacular media in the public domain that appear here were translated and summarized under the principle of "fair use." Every effort has been made to ensure accuracy of the translations. However, we are not responsible for the veracity of their contents. The activities of individuals described herein should not be construed as "typical" behavior of Japanese people nor reflect the intention to portray the country in a negative manner. Our sole aim is to provide examples of various types of reading matter enjoyed by Japanese.