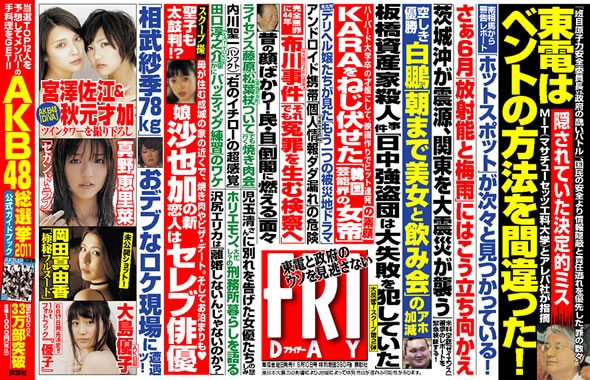 Even the horrifying death and devastation that struck northeastern Japan on March 11 could not suppress the human sex drive for long. Friday (June 10) reports that sex businesses were among the first to recover, many as soon as one week after the disaster.
"I was back at my job on March 18," says Kitty-san, a 21-year-old employee of a "delivery health" (out-call sex service) service named Ainori in Ishinomaki, Miyagi Prefecture. "From the day we reopened demand was even higher than it was before the disaster. Many customers had suffered from the catastrophe, and had even lost family members. They justified their urges, saying they 'sought psychological relief' or 'wanted to be consoled.'
"A lot of customers had been evacuated to temporary shelters where they couldn't bathe, and just wanted to go to a hotel so they could get cleaned up," Kitty continues. "One guy, who was about 35 years old, was pretty grubby. 'I haven't had a bath for two weeks' he told me. He seemed so happy when I gave him a shampoo."
So great was demand to use local hotel rooms with power and hot water, couples could even be seen queued up outside waiting their turn.
"I think our shop was the first one back in business after the quake," says an employee of Ainori. "We couldn't get through to the girls at first because cell phone communications had shut down. Afterwards we finally made contact. Including an affiliated shop, three girls had lost close family members and three more had lost their homes. The girls who lost family members still haven't come back to work, although we hope to offer them support, somehow."
An employee of Okusama Shokudo (wives' dining hall), another deri heru in Ishinomaki, named Chammy, age 28, tells Friday she had spent three weeks sleeping on the floor of a school gymnasium.
"I couldn't bathe for three weeks — it was awful!" she sighs.
She finally returned to work in early April.
"I was called to service a customer living on the second floor of an apartment in an area surrounded by debris," she relates. "There were volunteers clearing away wreckage on the ground floor, and at first I thought someone was pulling a practical joke on me. But when I knocked on the door, I was relieved to see a man in his 20s. His car had been washed away by the tsunami so he couldn't drive to a hotel. His apartment was still a mess. 'I'm grateful you came,' he told me."
Chammy tells Friday one of her customers had lost his wife, children and both parents to the disaster.
"He was in his late 30s," she recalls. "His wife's body had been identified from dental records. He had just finished her cremation and wanted somebody to talk to. I think he probably understood this was not the right time to be calling a hooker, but told me, with a shell-shocked expression on his face, 'I don't know what I should be doing. But anyway it's great to have somebody to touch.' I stayed with him the whole night."
Source: "Deri heru-jo tachi ga mita 'mou hitotsu no hisaichi dorama,'" Friday (June 10, page 78)
Note: Brief extracts from Japanese vernacular media in the public domain that appear here were translated and summarized under the principle of "fair use." Every effort has been made to ensure accuracy of the translations. However, we are not responsible for the veracity of their contents. The activities of individuals described herein should not be construed as "typical" behavior of Japanese people nor reflect the intention to portray the country in a negative manner. Our sole aim is to provide examples of various types of reading matter enjoyed by Japanese.