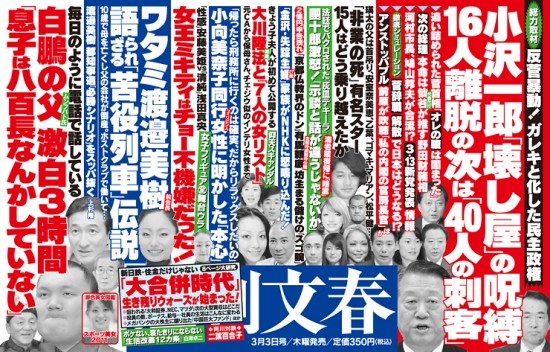 "I commute from home to an occupational training school close by. The new bookkeeping teacher is just the kind of hunk that I like. Anyway, completely by coincidence, he wound up moving into the apartment building that my parents operate."
Thus begins another titillating account of lurid female fantasy, from the December issue of women's soft porn mag Ai no Taiken Special Deluxe, as appearing in Shukan Bunshun (Mar. 3).
"One day I decided to drop by his place, which I could see from mine, just to say hello," she writes. "I had just turned 20, and being of the legal age to purchase alcohol, gave him a six-pack as a house-warming present.
"He seemed pleasantly surprised, and invited me to drink some with him. We started feeling mellower and mellower, and the next thing I knew we were rolling around and balling on the floor, amidst the boxes of stuff he had only partially unpacked. It was simply wild, and I had a great time of it!"
For the byline, we are served a wicked pun taken from the title of the currently running Monday-night Fuji TV drama about student-teacher relationships starring Erika Toda, called "Taisetsu na koto wa subete kimi ga oshiete kureta" (Everything that's important was what you taught me). Bunshun's punster has erotically tweaked this to read "Taisetsu na koto wa subete kimi ga ochin irete kureta," which means "Everything that's important came from your letting me stick in my c**k." (W.W.)
Source: "Shukujo no zasshi kara," Shukan Bunshun (Mar. 3, page 109)
Note: Brief extracts from Japanese vernacular media in the public domain that appear here were translated and summarized under the principle of "fair use." Every effort has been made to ensure accuracy of the translations. However, we are not responsible for the veracity of their contents. The activities of individuals described herein should not be construed as "typical" behavior of Japanese people nor reflect the intention to portray the country in a negative manner. Our sole aim is to provide examples of various types of reading matter enjoyed by Japanese.