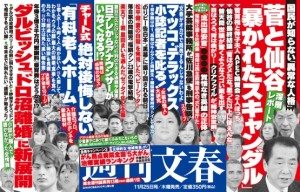 "I'm a beautician, and my guy works in his company's sales department. We're both damn busy and it's hard to coordinate our days off, which is why we hadn't had a chance to meet for the past several months."
Thus begins an erotic account extracted from the December issue of women's soft porn magazine Ai no Taiken Special Deluxe, as appearing in Shukan Bunshun (Nov. 25).
The narrator's solution was for her and her beau to both take their paid holidays, which combined with regular work holidays added up to a full week.
"On the first day, I went over to his apartment," the woman relates. "I'd barely taken off my shoes when we were going at it on the bed. I think I might have even told him, 'Ohh, I really missed you,' but for the life of me all I remember is seeing his earnest face as he kissed me.
"Afterwards we did it together in the bathtub, and then ordered a pizza, which we washed down with beer. We alternated sleep with sex, and ordered food deliveries, interspersed with more sex. Then we rented a foreign movie and when it got to the kissing scene we took a hint and did it right then and there.
"After a week of constant balling, I feel a smarting sensation down there, but heck, I loved every moment of it!"
Bunshun's byline for this contribution is "Bokura no nanokakan seiko," punned from the title of the first book in Osamu Souda's bestselling series, titled "Bokura no Nanakakan Senso" (Our 7-day War), published in 1985. Here, senso (war) has been changed to seiko (sexual intercourse). (W.W.)
Source: "Shukujo no zasshi kara," Shukan Bunshun (Nov. 25, page 109)
Note: Brief extracts from Japanese vernacular media in the public domain that appear here were translated and summarized under the principle of "fair use." Every effort has been made to ensure accuracy of the translations. However, we are not responsible for the veracity of their contents. The activities of individuals described herein should not be construed as "typical" behavior of Japanese people nor reflect the intention to portray the country in a negative manner. Our sole aim is to provide examples of various types of reading matter enjoyed by Japanese.