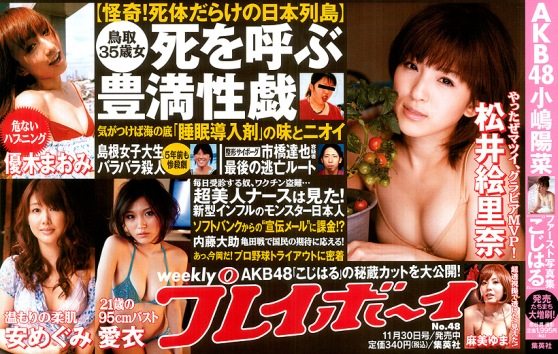 While police are still investigating Kanae Kijima and the suspicious deaths of six men once acquainted with her, a former bar hostess from Tottori Prefecture has been linked to an equal number of men who succumbed to the same fate, reports Weekly Playboy (Nov. 30).
Miyuki Ueta, 35, was arrested on November 2 for defrauding a woman out of 1.26 million yen by falsely claiming that the victim's son had been lent money. Her 46-year-old male roommate was also taken into custody for swindling a tractor dealer. Separate fraud charges were added against the pair on November 20.
Police are presently attempting to build murder cases around at least three of the six deceased, all of whom have been connected to Ueta. Authorities have also learned that insurance policies had been taken out on some of the dead.
Yomiuri Shimbun newspaper reporter Akira Seo, 42, was killed in 2004 after being struck by a train. Security guard Shinichi Furuta, 27, died three years later while swimming. 41-year-old police officer Houitsu Sakai was found hanged in February of last year. Kazumi Yabe, a 47-year-old truck driver, drowned in April of this year. 58-year-old Kazumi Taguchi (unemployed) was discovered dead in his apartment in October. Electrician Hideki Maruyama, 57, was found beaten and face down in the Mani River that same month, with the case initially being ruled a suicide by Tottori Prefectural Police.
The bodies of the latter three were all reported to have contained multiple sleep-inducing drugs.
Weekly Playboy says that four of the men had a dating history with Ueta. As well, Yabe borrowed 2 million yen from loan companies to then give to the suspect. Two others, a 66-year-old man, who was set to marry Ueta, and another regular at her club, loaned her approximately 6.1 million yen in cash and valuables.
The tabloid, which unabashedly describes Ueta as very rotund — and supplies numerous photos for readers to peruse — reports that she was divorced twice and not exactly a doting mother for her five children, who were often in charge of the household chores within the cramped, 25,000-yen-a-month apartment that housed seven people and a number of dogs and cats. The residence also contained a huge stash of sleeping pills and cold medicine in a box as well as two large books about general pharmaceutical practices.
Given this unusual environment, the weekly wonders: How could she entrap so many men? A reporter from a local newspaper is equally perplexed: "Of the men who died, they were between their 20s and 50s and they all had different occupations. The police officer 'who committed suicide' was the most handsome guy that the Tottori police ever had on the force. There is no association between these men concerning their ages or social status. Yet they kept giving her money and, somehow, they lost their lives."
The hostess club J, where Ueta worked from the fall of 2005 until this past February, specialized in overly heavy ladies. Weekly Playboy could not find any evidence that the establishment is one where staff members could be taken home for the night, but it did indicate that Ueta was eager to lead customers along in that regard. A former employee says, "She would grab hold of guys and never let go. She must have been good in bed."
AERA (Nov. 23) tracked down the brother of security guard Furuta. He and his sibling lived in Ueta's apartment at one point. "She had a habit of saying, 'The type of person I hate most is one who lies,'" he said. But it was her, he explained, who was the one who was more ambiguous and centered around lies. She once went to his brother's office pretending to be his sister to collect his salary.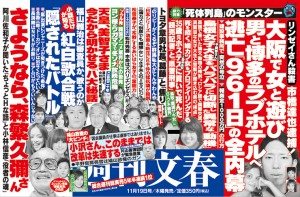 The brother tells AERA that Ueta was very protective about food in the house — an ominous revelation given that before Yabe's drowning two separate incidents befell him immediately following the consumption of a meal prepared by her. He crashed his truck in February after falling asleep at the wheel and later suffered smoke inhalation injuries after passing out on a kotatsu (heating blanket) just prior to a fire breaking out inside his home.
Furuta's brother said that on the weekend it was always curry — and in amounts suitable to feed an army. There was no other choice, he added, with any leftovers not to be thrown out and under careful guard in the refrigerator. "Why are you throwing that away without my permission?" she once scolded him.
Seo, the reporter at the Yomiuri, was a regular at J, according to Shukan Bunshun (Nov. 19). The tabloid, which applies the tag of "monster" to Ueta, reports that Seo died on May 13, 2004, when the express train Super Inaba struck him while he was wearing a cardboard box on his head in a "suicide." The cardboard box shattered into pieces, which if taped together revealed a message: "It was good that I met Miyuki. I learned true love through her."
A person close to the investigation found Ueta's behavior that day to be suspicious, saying: "She filed a search request for Seo-san on that day with the Tottori police. She also went to the Tottori bureau of the Yomiuri Shimbun while accompanied by a young man. She said, 'My dear is gone. We got into a fight and he left.' It was around this time that Seo-san was hit by the train. It is absurd to leave behind such a romantic note and commit suicide while wearing a cardboard box. It is also extraordinary for her to file the search request on that same day."
Shukan Bunshun suspects that Seo was being put under pressure. A newspaper reporter explains: "He was running around all over the place asking for loans and requesting that the reason not be given. For someone that age he had to have been making 10 million yen a year. So we thought he was stuck with a high-maintenance gal."
Source: "Tottori sunakku onna Ueta Miyuki yogisha shi wo maneku houman bodi no sex zetsugi," Weekly Playboy (Nov. 30, pages 34-39)
Note: Brief extracts from Japanese vernacular media in the public domain that appear here were translated and summarized under the principle of "fair use." Every effort has been made to ensure accuracy of the translations. However, we are not responsible for the veracity of their contents. The activities of individuals described herein should not be construed as "typical" behavior of Japanese people nor reflect the intention to portray the country in a negative manner. Our sole aim is to provide examples of various types of reading matter enjoyed by Japanese.