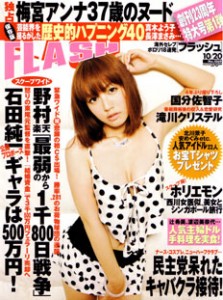 Following last month's revelations in the Mainichi Shimbun that offices of Democratic Party of Japan members spent large sums in adult entertainment clubs, weekly tabloid Flash (Oct. 20) reports on whether the establishments were indeed suitable meeting locations, as was later claimed by the politicians.
To recap, the Mainichi revealed that 5.82 million yen in taxpayers' money was used, and designated as being for "political purposes," between 2003 and 2007 by the offices of five senior members of the newly elected DPJ at various kyabakura and hostess bars, where female staff pour drinks and engage in conversation with male customers. The biggest spender was Satsuki Eda, presently the President of the House of Councillors, who paid 2.37 million yen at 11 bars.
At a Nishi Asakusa kyabakura favored by Eda, Flash finds the arrangement to include F-cup-chested ladies dressed in nurse uniforms or Chinese dresses. "This place has been here a while," says one of the busty gals. "What's the sales point? We have a cosplay day once a month. Also popular is our sexy dance shows on the stage by ladies in thongs, held twice a day."
The girls rotate quickly, the reporter adds, noting that he collected five business cards, with each being from a top-notch lady. Charges run 20,000 yen, which includes entry for two people and one bottle. The verdict? A fine venue for entertainment, but a highly questionable location for an exchange of information. Thumbs down.
Clubs in Yushima and Ginza were also popular with the person in charge of accounting for Eda's committee. A former mama at one of them explains: "Whenever representatives from labor unions or executives of companies comes to Tokyo from his home prefecture, Okayama, he would come to this place. But we would be their second or third stop for the night. He has an American Express "black card" so he can spend at will."
The club, elaborately outfitted in nude oil paintings and indoor plants, charges 35,000 yen for a bottle and entry. Flash comments that it is possible to hold a meeting in such an environment, but believes that for a political party whose image was crafted under the mantra "ordinary citizens' lives come first" the conditions are dubious.
The Minister of of Education, Culture, Sports, Science and Technology, Tatsuo Kawabata, filed 1.14 million yen in claims for trips to six clubs in Akasaka and a "new-half" cabaret in Shinjuku. An official statement from his office said, "The charges have been appropriately listed under the law."
For confirmation of appropriateness, the weekly ventures to the Shinjuku pub (40 years of service, 8,000-yen entry and floor show twice daily) — yet is turned away at the door by an employee who says, "We are very strict about disclosing information regarding our customers. Their privacy remains secure."
A long-time secretary within the Liberal Democratic Party believes that the DPJ's lower house victory in August is now putting the spotlight on them, but playing the money-politics game remains crucial. "Secretaries cannot ignore supporters who have voting power," he says. "This is especially true when local policymakers and other influential individuals come to visit. However, now that funds are not as abundant as before we are taking defensive measures. We'll rank how influential a particular person is within a constituency and determine how much we will provide with regards to hospitality. Nowadays, going to a regular grilled chicken restaurant is common."
Flash sees the parties as operating largely in the same manner, and in response to the post-scandal comment by DPJ's Hirofumi Hirano, Chief Cabinet Secretary, who said, "Whether or not the spending was appropriate will be determined by the citizens," the tabloid resoundingly offers: not appropriate! (A.T.)
Source: "Minshukanbudan dai 'kokane de naasu kyabakkura' jitai abaku," Flash (Oct. 20, pages 98-99)
Note: Brief extracts from Japanese vernacular media in the public domain that appear here were translated and summarized under the principle of "fair use." Every effort has been made to ensure accuracy of the translations. However, we are not responsible for the veracity of their contents. The activities of individuals described herein should not be construed as "typical" behavior of Japanese people nor reflect the intention to portray the country in a negative manner. Our sole aim is to provide examples of various types of reading matter enjoyed by Japanese.