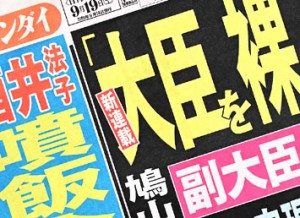 It was 1989, the bubble economy was careening hell-bent-for-leather toward the abyss, and naturally salarymen were partying as if there was no tomorrow.
One of the places they favored, reports Nikkan Gendai (Sep. 19) was a shop in Shibuya named Joshi Kosei Kurabu (High School Girls' Club). The shop's founder got his inspiration from the thriving burusera shops in the same neighborhood that were raking in bundles from the shameless sales of unlaundered panties and other garments worn by high school girls.
Thinking that customers would be attracted to an establishment where they could stick their faces up against a girl's crotch and sniff to their noses' content while the panties were still being worn, he set up business in a condominium, and stocked it with fresh school graduates, aged 18 and 19. Dressed up in middie blouses (worn by high school girls) they were still young and cute enough to pass for the real thing.
A 60-minute routine at the club cost 25,000 yen, and entitled the customer to oral sex and a session of 69. As an added bonus, customers could take home their girl's panties as a souvenir if they so desired.
Business boomed, with annual revenues said to be in excess of 100 million yen.
But around 1993 the Tokyo Metropolitan Police, perplexed by the publicity regarding the decline in teen morality, began looking for ways to shut down the burusera shops. It finally decided to invoke an old and rarely used law that required a special permit to sell articles of used clothing.
Armed with this obscure ordinance, the police shut down the stores. As a proactive measure, the club ordered its female staff to switch from the middie blouses to blazers (worn by university students). And everything seemed hunky-dory until 1996.
Then disaster struck. It seems that customers in search of a good squirt failed to heed directions to the club. They wound up knocking for service on the wrong door. Annoyed by the persistence of these rude Romeos, the residents filed a complaint with their landlord, who had no choice but to evict the shop from the premises.
The girls who worked in the shop sought to stay in the sex business, gravitating to "telephone clubs" or going independent. But by this time enjo kosai ("compensated dating," i.e., prostitution) by female middle school students had become ubiquitous, and the former staff of the High School Girls' Club, who were still only in their mid-20s, wound up suffering the ignominy of being treated as middle-aged obasan. Sadly, their monthly income from whoring plummeted to one-tenth the level of their high times at the club. (K.S.)

Source: "Aho na kyaku no sei de horobita joshi kosei kurabu," Nikkan Gendai (Sep. 19, page 28)
Note: Brief extracts from Japanese vernacular media in the public domain that appear here were translated and summarized under the principle of "fair use." Every effort has been made to ensure accuracy of the translations. However, we are not responsible for the veracity of their contents. The activities of individuals described herein should not be construed as "typical" behavior of Japanese people nor reflect the intention to portray the country in a negative manner. Our sole aim is to provide examples of various types of reading matter enjoyed by Japanese.