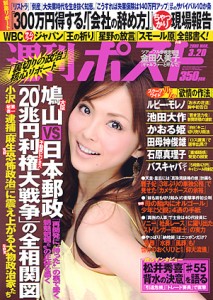 Have you got 40,000 yen to blow on a tour of Tokyo night life? Well, suggests Shukan Post (March 20), you might want to consider showing up at Tokyo Station at 6:30 p.m. for a "Basu Kyaba Tsuaa" (cabaret tour by bus). The tours, initiated from the end of February, take in three cabarets in the Asakusa, Ueno and Roppongi areas.
What's more — and this part sounds almost too good to be true — the interior of the bus is partitioned with tables and hostesses go along for the ride, pouring customers' drinks and making the whole experience a nonstop party on wheels — except when the signals turn red.
According to Mr. "A," the writer who reports on his experience, the customers were joined by eight charming gals, including the lovely 21-year-old Naomi who was clad in a revealing pink camisole.
About 30 minutes after taking in the glittering night scenes of Tokyo Tower and similar environs, the bus arrived at its first shop in Asakusa. About 50 minutes later, the revelers re-boarded accompanied by a new contingent of hostesses, and headed for Ueno. The process was repeated, and after more revelry in Roppongi, the bus returned to its starting point at Tokyo Station at 11:30 p.m.
"Asakusa was carefree, Ueno was sexy and Roppongi was gorgeous," A concluded. "I thought the subtle differences in the three areas was especially interesting."
These five-hour-long tours are limited to a max of 22 customers, and reservations must be made at least three days in advance. For the 39,000 yen outlay no limit is placed on the volume of drinks consumed.
"Times are hard in the entertainment business now, and I was looking for a way to give them some business while helping salarymen have a good time," explains the unnamed president of P3 Systems, organizer of the tours. "We operate a course from Yokohama Station too. And we'd like to extend the system to other cities."
One would think a similar arrangement for ladies to visit host clubs ought to be equally successful. (K.S.)
Source: "Basu kyaba tsuaa, 'Gojikan yonmanen' no 'otanoshimi' kyamisoru dojoki," Shukan Post (Mar. 20, Page 135)
Note: Brief extracts from Japanese vernacular media in the public domain that appear here were translated and summarized under the principle of "fair use." Every effort has been made to ensure accuracy of the translations. However, we are not responsible for the veracity of their contents. The activities of individuals described herein should not be construed as "typical" behavior of Japanese people nor reflect the intention to portray the country in a negative manner. Our sole aim is to provide examples of various types of reading matter enjoyed by Japanese.