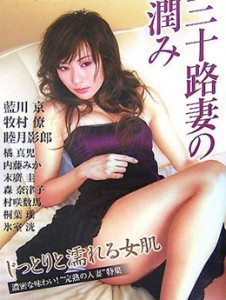 The daily tabloid Nikkan Gendai (Jan. 9), which has certainly delved into the subject of prostitution by housewives any number of times in the past, expressed spurious astonishment that the January 6 edition of the mainstream Mainichi Shimbun had run a report concerning a 42-year-old housewife who, frustrated over her perception that she was considered little more than a housekeeper, had taken up part-time employment in a sex shop.
In fact, there may be plenty of husbands who are better off not knowing what their wives do during the day.
"In the case of sex businesses that promote female staff as honmono (authentic) housewives, I'd say about 60 percent are the real thing, with the remainder being pretenders," remarks Yasuhiro Ebina, a writer who covers the "pink" trade. "On the web encounter sites, though, about 90 percent of women claiming they're married are the real thing. Many are driven by frustration due to sexless marriages, and others are by motivated by financial factors like paying for their child's tuition at cram school or to repay home loans or other debts."
While it is illegal for women employed through deri heru, or "delivery health" (out-call services), to engage in intercourse, Ebina claims many such women will go all the way for an additional outlay of 10,000 yen.
Housewives employed by commercial establishments tend to range in age from their 30s to 50, whereas amateurs who offer themselves via encounter sites tend to range from 20s to 40s.
What's the main appeal of such older women? Some males find them more understanding of their needs than younger gals, and they willingly pamper customers with such services as paizuri (bringing a man to orgasm by gripping his penis in her cleavage) and earwax removal while lying with his head on her lap are popular.
In Tokyo, more than half the married females in the flesh trade are said to reside in plebian shitamachi districts in Taito and Adachi Wards. But from a decade or so ago, women living in such upscale neighborhoods as Denenchofu, in Ota Ward, have also entered the trade.
"They've got money, but they're spoiled women who are sexually frustrated," explains Ebina. "They're a bit snooty, and set conditions, such as they will only take on young and well-groomed customers."
More recently, adds Ebina, thirtysomething wives living in the affluent Shirokanedai district of Minato Ward have also begun working in the sex trade, mainly to pay off debts. (K.S.)
Source: "Shufu fuzokujo no jittai," Nikkan Gendai (Jan. 9, page 6)
Note: Brief extracts from Japanese vernacular media in the public domain that appear here were translated and summarized under the principle of "fair use." Every effort has been made to ensure accuracy of the translations. However, we are not responsible for the veracity of their contents. The activities of individuals described herein should not be construed as "typical" behavior of Japanese people nor reflect the intention to portray the country in a negative manner. Our sole aim is to provide examples of various types of reading matter enjoyed by Japanese.