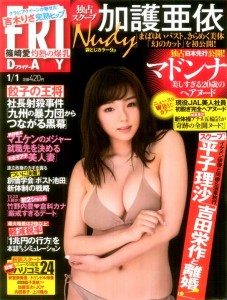 When it comes to adultery, there is likely no excuse that will suffice the court of public opinion — but lower house member Yasuhide Nakayama is giving it the old college try.
According to a funding report released in November, the 45-year-old lawmaker spent 181,550 yen at a hostess club in Tokyo's Roppongi entertainment district on May 29 of last year, reports Friday (Jan. 1)
With Nakayama, a member of the Liberal Democratic Party, being married with two children, most interesting to the magazine is that club allows customers to "take out" the female staff members.
In January, Nakayama coordinated regional efforts to obtain the release of hostage Kenji Goto while serving as the State Minister for Foreign Affairs. He was re-elected to the lower house in the 4th district of Osaka in December.
When approached by Friday in Osaka, confirmed the business model of the club. He, however, denied any hanky panky as to any misappropriation of funds.
"Since it was work-related, I assume I decided to pay in an official capacity," the lawmaker is quoted at the Rihga Royal Hotel. "I usually pay out of my own pocket."
As his vague explanation implies, it wasn't his only visit — far from it. Shukan Bunshun first reported on Nakayama's commuting to the club in its November 5 issue, revealing that the lawmaker drops around 20,000 yen upon each visit, which take place around once every two weeks.
"As a regular dating back a while, he has a few favorite hostesses," an insider at the club tells Nikkan Gendai (Dec. 19). "He makes lavish wine purchases as a means of seduction." (K.N.)
Source: "Chokugeki! Nakayama Yasuhide zen gaimu fuku daijin wo mochikaeri hosutesu no mise ni seiji shikin de totte ita!" Friday (Jan. 1, page 84)
Note: Brief extracts from Japanese vernacular media in the public domain that appear here were translated and summarized under the principle of "fair use." Every effort has been made to ensure accuracy of the translations. However, we are not responsible for the veracity of their contents. The activities of individuals described herein should not be construed as "typical" behavior of Japanese people nor reflect the intention to portray the country in a negative manner. Our sole aim is to provide examples of various types of reading matter enjoyed by Japanese.