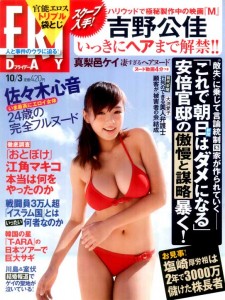 In June of last year, Tokyo police busted Chinese massage parlor Manzoku 99 in Tokyo's Gotanda area for violating the Anti-Prostitution Law.
The parlor, which charged 10,000 for honban, or full service, was exceedingly successful, having brought in 360 million yen revenue over the previous 18 months.
"When you entered, the ladies were all lined up before you," a fuzoku writer tells Friday (Oct. 3). "Mostly big-breasted babes or model types."
Now, drools the magazine, a similar establishment is serving all comers just outside the North Exit of JR Ikebukuro Station.
Priced the same as Manzoku 99, the establishment, which is not named, employs voluptuous masseuses of comparable quality.
"After a shower, you head to one of five small rooms," a regular tells the magazine, which prints a grainy black and white image of the three ladies in the parlor. "The service begins with a quick massage."
Thereafter things escalate.
"Gradually, the touching becomes more intimate," continues the regular, "and before you know it she's blowing you."
Much like Manzoku 99, business is good. The parlor is packed on weekends.
"You can also request for another girl to enter from a different room for a three-way," says the regular. "Of course, there's an extra charge for that."
Under the law prohibiting prostitution, the provision of intercourse is illegal, which was the problem for Manzoku 99. For an assessment of the matter, Friday consults with a legal expert specializing in the fuzoku industry.
"If a shop pretends to be a massage parlor and allows customers to receive honban, it is a breach of the law," says lawyer Ichiro Onishi. "In that case, management is subject to punishment."
The moral of the story: Get over to Ikebukuro while the getting's good. (A.T.)
Source: "Ikebukuro 'Chugokujin bijo 1manen chika fuuzoku' ni," Friday (Oct. 3, pages 76-77)
Note: Brief extracts from Japanese vernacular media in the public domain that appear here were translated and summarized under the principle of "fair use." Every effort has been made to ensure accuracy of the translations. However, we are not responsible for the veracity of their contents. The activities of individuals described herein should not be construed as "typical" behavior of Japanese people nor reflect the intention to portray the country in a negative manner. Our sole aim is to provide examples of various types of reading matter enjoyed by Japanese.