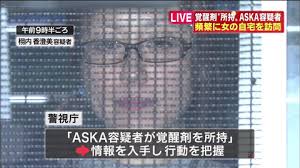 During her first court hearing at the Tokyo District Court last week, Kasumi Tochinai, a former employee at staffing agency Pasona who has been charged with possession and use of stimulant drugs, came up with a few creative explanations for how she could have tested positive for illegal chemicals in her system.
Tochinai, a 37-year-old acquaintance of troubled musician Aska, 56, one half of the pop duo Chage and Aska, insinuated that the findings were due to mistakes on the part of the crime lab.
The traces of drugs found in a sample of her hair? Those came via perspiration from Aska, Tochinai said, and added that the illegal substances discovered in her urine were the result of contamination from the semen of the musician.
Well, reports Tokyo Sports (July 27), the police find it peculiar that she is the only one of Aska's girlfriends who doesn't use stimulant drugs.
"Law enforcement is enraged and may be fighting back," say a person affiliated with the police.
Three days after Tochinai denied using drugs in court, Fuji TV revealed that the police have been questioning a woman described as "girlfriend number 2." She told investigators: "I started using drugs through Aska's recommendation." Police plan to file charges against the woman, whom Aska met through his work as a musician.
Certainly, says Tokyo Sports, the timing of the revelations is not a coincidence.
"She was scheduled to appear in court to testify for Aska's trial, which is set to start on August 28," says a person with knowledge of the matter. "But this (leak) is the police silently putting pressure on the Tochinai side by telling them not to get too carried away."
Not only that, according to Tokyo Sports, investigators have been questioning two other girlfriends of Aska, all of whom claim they started using drugs through the musician.
Aska, whose real name is Shigeaki Miyazaki, met Tochinai in 2002 at a lavish banquet in Tokyo, hosted by Pasona founder Yasuyuki Nambu. The two began a relationship in 2004.
Tokyo Metropolitan Police first arrested Tochinai and Aska at her apartment on May 17.
During a search of Aska's home in Meguro Ward, officers seized a glass pipe, powdered stimulant drugs and pills of the drug MDMA, which is known as Ecstasy.
Another matter raised that questions during Tochinai's first hearing concerned emails between her and Aska. Regarding a report appearing last year that said Aska was using drugs, Tochinai wrote to Aska that if it were true their relationship was over. Aska, who himself will appear in court to face drug charges next month, then wrote that it is impossible for him to be using since his agency administers a test once each week.
"The idea that his agency administers such a test is not based in fact," says a person with knowledge of the matter. "Rather, Aska kept kits that enabled him to prevent his drug use from being detected. So, when you think about it, the exchange between the two people is likely not 100% based in fact, with them possibly trying to cover up evidence. The data on Aska's phone has been deleted, and police are actively trying to recover it." (K.N.)
Source: "Kensatsu ga shikaketa? 'Aska dai2 no aijin hodo,'" Tokyo Sports (July 27)
Note: Brief extracts from Japanese vernacular media in the public domain that appear here were translated and summarized under the principle of "fair use." Every effort has been made to ensure accuracy of the translations. However, we are not responsible for the veracity of their contents. The activities of individuals described herein should not be construed as "typical" behavior of Japanese people nor reflect the intention to portray the country in a negative manner. Our sole aim is to provide examples of various types of reading matter enjoyed by Japanese.