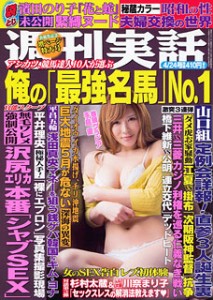 On the morning of April 2, officers from the Shimane Prefectural Police arrived at a vacant building in Matsue City.
Upon reaching a room on the second floor, police found a dead 18-year-old female college student from Nagoya, a collapsed 31-year-old male, a charcoal stove and five briquettes.
Alerting the authorities to the grisly discovery was the mother of the girl, who told authorities that her daughter had engaged in a forced double suicide, reports Shukan Jitsuwa (Apr. 24).
"The day before, the girl left her parents home in Nagoya, saying she was off to meet someone she had become acquainted with on the Internet," a local news reporter tells the tabloid. "After a gap in correspondence, the daughter later got in touch with her mother to say that she was in Shimane and about to commit suicide with another person."
The following day, the mother rushed to the second-floor of the building. In the room, her daughter was slumped over in a seated position. The exact cause of death is under investigation.
On April 3, officers arrested the male, Mizuki Okata, on charges of murder by consent. "She asked me to kill her," the suspect was quoted by police.
The pair met on a "suicide site" on the Internet and struck up a correspondence.
The apartment is owned by Okata's grandfather. The same reporter says that it was chosen since it was vacant and under renovation.
"Okada is a nurse," says the aforementioned reporter. "He suffered a number of injuries and was unable to work. Further, he got divorced last year. The combination was quite a burden so he turned to communicating on a (suicide) site."
The girl, who graduated from high school this spring, was in a susceptible period. Okata likely offered some sympathies.
"If it was a matter of the girl asking Okata to join her out of compassion in a double suicide, it would be a case of murder by agreement," a reporter covering legal matters tells Shukan Jitsuwa. "However, should it be determined that she asked Okata in earnest to kill her — as in a contract killing — it would be a case of murder by consent."
Either way, the reporter says based on previous cases a conviction would result in a prison term of between six months and seven years. (K.N.)
Source: "Shimane jisatsu saito de shiriatta dansei wo ayameta shodaku satsujin yogi joshi daisei," Shukan Jitsuwa (Apr. 24, pages 45-46)
Note: Brief extracts from Japanese vernacular media in the public domain that appear here were translated and summarized under the principle of "fair use." Every effort has been made to ensure accuracy of the translations. However, we are not responsible for the veracity of their contents. The activities of individuals described herein should not be construed as "typical" behavior of Japanese people nor reflect the intention to portray the country in a negative manner. Our sole aim is to provide examples of various types of reading matter enjoyed by Japanese.