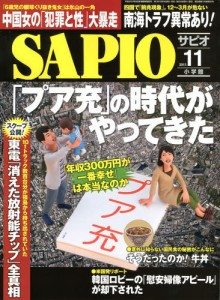 As controversy swirls around a bill submitted to the Diet during the current extraordinary session that is designed to protect state information, Sapio (November) focuses on the implications of a revision to the child pornography prohibition law.
In May, a revision to the child pornography law was jointly submitted, and debate has carried over to the current session.
The revision prohibits the possession of child pornography as well as the production and sales of such images. (As of now, only the latter is considered illegal.)
But, says Sapio, such a revision could be subject to abuse given that violations would be largely up to interpretation.
"Even just to have on your mobile phone pictures of your children sunbathing in the nude," says Yuri Kawamura, a lawyer and vice-committee chairman of the children's rights division of the Japan Federation of Bar Associations, "if to the viewer there is an 'intention to stimulate or excite sexual desire' this could lead to an arrest."
Lawmakers have said that Japan's current laws lag behind the rest of the world, and that the nation's reputation is at stake.
Even under the existing legal framework, infractions are on the rise. In 2012, there were 1,596 child pornography cases handled by law enforcement, the highest figure on record.
The revision may also cause manga and anime works to fall under scrutiny if any erotic scenes are deemed to include children. Kawamura says that works considered to be art could also be targeted, which could lead to complications.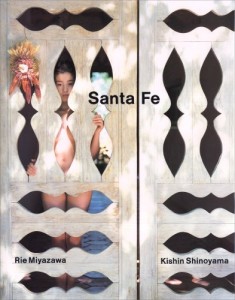 "It could be a crime to have works in your house that were purchased previously," says the lawyer.
As an example, she cites the 1991 release of the nude photography book "Santa Fe," featuring Rie Miyazawa, who was likely 17 years old at the time of the shooting. Photographed by Kishin Shinoyama, the publication sold 1.55 million copies.
"When it comes to child pornography, it is necessary that regulation does not also impinge on human rights," says Kawamura. "Abuse could take place by investigative authorities under the pretext of regulation." (K.N.)
Source: "Jido poruno kinshiho kaisei de Miyazawa Rie 'Santa Fe' shoji mo hanzai ka," Sapio (November, pages 34-36)
Note: Brief extracts from Japanese vernacular media in the public domain that appear here were translated and summarized under the principle of "fair use." Every effort has been made to ensure accuracy of the translations. However, we are not responsible for the veracity of their contents. The activities of individuals described herein should not be construed as "typical" behavior of Japanese people nor reflect the intention to portray the country in a negative manner. Our sole aim is to provide examples of various types of reading matter enjoyed by Japanese.