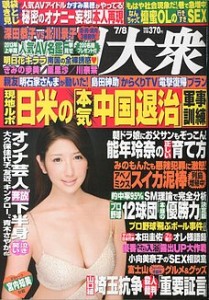 A farmer from Ibaraki Prefecture tells weekly tabloid Shukan Taishu (July 8) that he has heard many positive things about 'Abenomics' on television, but his life hasn't changed.
"On the contrary," he says, "fertilizer prices are up, and at a town gathering the other day I heard that watermelon thefts are a huge problem."
According to the magazine, the much ballyhooed initiative — Prime Minister Shinzo Abe's pledge to raise government spending in an effort to boost prices — may be raising share prices on the Nikkei index, but with costs for raw materials escalating agriculture and retail businesses are experiencing a staggering number of thefts, including that of the suika, or watermelon.
"In tough economic conditions, mysterious incidents often occur," says a reporter at a national newspaper. "In a recession, you might hear about an increase in stolen rice. Recently, however, there have been a large number of thefts of high-priced fruit. There is no precedent for this."
On May 26, a farmer in Chikusei, Ibaraki noticed the disappearance of 700 small watermelons (worth 350,000 yen) from inside a greenhouse not far from his house. "He never thought someone could haul away such a bulky and heavy items," says the aforementioned reporter.
Five days later, another farm in the same city suffered a loss of 250 melons. "In recent years, the prefectural government has been promoting Chikusei watermelons as being sweet and delicious," says the same reporter. "The thefts have really hit home, and local farmers are perplexed as to how to establish counter measures."
According to the Yomiuri Shimbun (July 7), a farmer discovered the theft of 150 watermelons, valued at 150,000 yen, from a field in the city of Yuki on the morning of July 6.
But the thefts are not just occurring in Ibaraki. Tottori Prefecture is the producer of the high-end Daiei Suika brand, a specialty watermelon known for being shipped to the royal family of Dubai. In the city of Hokuei, three incidents have taken place.
According to a local newspaper reporter, farmers are strengthening their defenses. "Security cameras are now in place," says the reporter. "They are aware of the damage suffered in Chikusei. They know it can happen at any time, and they are trembling with fear."
With a single Daiei Suika fetching more than 30,000 yen in Dubai, this is a serious issue. A representative of the Daiei Suika Association is left exasperated. "Even with a chain around the greenhouse, they will cut it," says the representative. "There is no doubt that these are deliberate attacks." (K.N.)
Source: "Abenomikusu no ura de 'suika dorobo retto soshoku chu' geki yaba," Shukan Taishu (July 8)
Note: Brief extracts from Japanese vernacular media in the public domain that appear here were translated and summarized under the principle of "fair use." Every effort has been made to ensure accuracy of the translations. However, we are not responsible for the veracity of their contents. The activities of individuals described herein should not be construed as "typical" behavior of Japanese people nor reflect the intention to portray the country in a negative manner. Our sole aim is to provide examples of various types of reading matter enjoyed by Japanese.