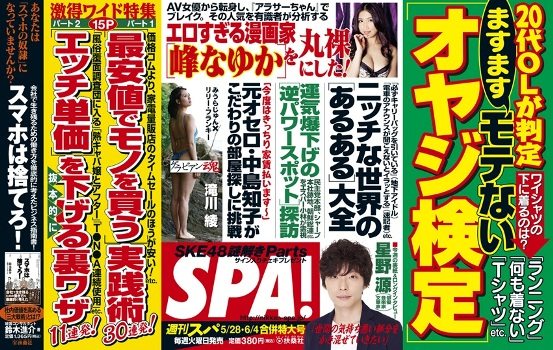 Always in search of a new wrinkle, Japan's adult video (AV) industry is now taking applications from every Tom, Dick, and Harry to fulfill the dream in performing in porn pictures.
In days past, reports weekly tabloid Spa! (May 28-June 4), an outlay of perhaps 50,000 yen to a deri heru (out-call sex) establishment was necessary to do the deed with an AV actress.
No longer. Producers are now implementing a practice referred to as heya kashi (room rental), in which male amateurs are paid upwards of 20,000 yen to utilize their own apartments for a little filmed futon fun.
"I saw an ad on the Web site of a production company," says a 36-year-old male going by the name of Hiro Sasaki. "No interview was necessary beforehand. I just submitted a few photos of the inside of my apartment. The next day, a girl and director came over."
The tabloid says that it is not unusual for the industry's "soup men" — extras in conventional porn productions tasked with ensuring that the concluding "money shot" is a certified splash — to supplement their incomes via heya kashi.
For Sasaki, a camera was set up. He was then asked to make merry with the actress for 60 minutes. He did have some issues, however.
Even though the actress was a desirable gyaru type, meaning deeply tanned and likely loaded with accessories, Sasaki had problems rising to the occasion in the presence of the camera.
Yet after cunnilingus and blow job sessions, he was good to go and managed to blow his top right on cue.
The magazine wonders where there is a risk that his identity will be revealed.
"Previously, amateur actors have had their faces obscured by a mosaic," says Sasaki. "Co-workers and friends are not able to recognize you. I don't think it is a problem."
Source: "Ninki AV baito heya kashi de kairaku to hoshu wo getto," Spa! (May 28-June 4, pages 46-47)
Note: Brief extracts from Japanese vernacular media in the public domain that appear here were translated and summarized under the principle of "fair use." Every effort has been made to ensure accuracy of the translations. However, we are not responsible for the veracity of their contents. The activities of individuals described herein should not be construed as "typical" behavior of Japanese people nor reflect the intention to portray the country in a negative manner. Our sole aim is to provide examples of various types of reading matter enjoyed by Japanese.