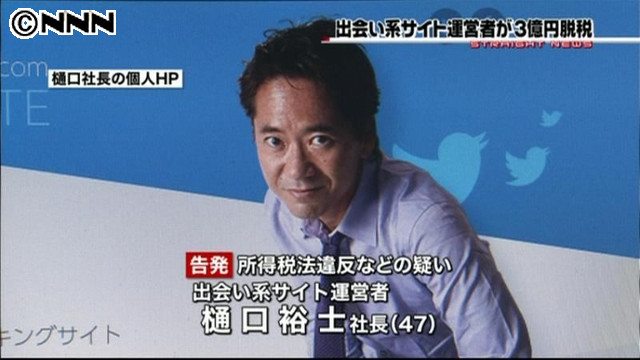 The Tokyo Regional Taxation Bureau last week accused an executive of concealing 300 million yen in the operation of multiple "encounter" matchmaking Web sites.
Over a three-year period ending in 2011, Yuji Higuchi, 47, the president of an advertising firm based in Shibuya Ward, is alleged to have concealed 270 million yen in income and 30 million yen in withheld taxes from employee salaries — a violation of the Income Tax Law.
Evening tabloid Nikkan Gendai (Apr. 16) is stunned at the staggering 700 million yen in earnings the more than 20 deai-kei, or encounter, matchmaking sites accrued over the period in question.
A source familiar with the matter says that Higuchi began an Internet business more than 10 years ago. "But with the tax authorities chasing him, he kept creating new companies and new sites one after another," says the source.
Higuchi's secret to his success also led to his downfall. His business plan required that sakura, or fake, female users engage in communication with males registered to the various sites. "With the sakura ladies trolling for customers, a lot of complaints resulted," says the aforementioned source.
An examination of the average site's fee structure reveals that users can rack up big bills quickly. The insider says that to view a woman's photo requires 50 yen, with the same price applying for the reception of an email. So if a customer communicates with ten women, the total quickly reaches 1,000 yen. For that same amount, customers can engage in a live-chat session for 10 minutes.
Nikkan Gendai tells its mostly male readership that attractive women appearing on deai-kei sites are not going to be genuinely interested in dates, and adds that there are ways to spot overtly fraudulent sites.
A writer covering the sex industry explains that the sakura employees are found via free ads placed in magazines intended for ladies employed in the adult-entertainment industry. "The companies that place these types of ads are best to avoid," says the writer.
Higuchi told Nippon Television (Apr. 12), "At this time, there is nothing to be said." The president is expected to file revised tax forms with the bureau.
Source: "Deai-kei saito 3okuen datsuzei kokoku gaisha shacho arakasegi no teguchi" Nikkan Gendai (Apr. 13)
Note: Brief extracts from Japanese vernacular media in the public domain that appear here were translated and summarized under the principle of "fair use." Every effort has been made to ensure accuracy of the translations. However, we are not responsible for the veracity of their contents. The activities of individuals described herein should not be construed as "typical" behavior of Japanese people nor reflect the intention to portray the country in a negative manner. Our sole aim is to provide examples of various types of reading matter enjoyed by Japanese.