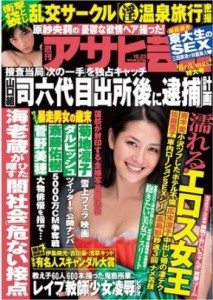 "In the area around the big supermarket in front of Sugamo Station, there's lots of pink salons that evoke the nostalgic Showa Era (1926-1989). On the street nearby you can see these nattily clad older guys negotiating with big-breasted streetwalkers who appear to be from South America," a salaryman living in the Sugamo neighborhood of Tokyo's Toshima Ward tells Shukan Asahi Geino (Dec. 23).
"Once deciding on a price, they'll join arms and head off in the direction of the love hotels. When I see this, I always murmur to myself, 'Go for it, pops!'"
The neighborhood is famous shopping street that leads up to the Koganji Temple, home to the Togenuki Jizo, a Bodhisattva to which people pray for removal of splinters.
A worker at a local izakaya tells the reporter he thinks the foreign gals who loiter on the street around the area's love hotels had previously worked in the neon neighborhood around nearby Otsuka Station.
"Some of them formerly worked for deri heru, and it comes as a bit of a surprise to encounter blond ladies strutting up and down the street. The old ladies who shop at the supermarket can be seen walking past the girls with their purchases, and don't give them a second thought."
Kei Shimamoto, a writer who reports on the pink trade, tells Asagei that he often hears stories about oldsters who patronize sex shops and the like.
"They're partial to hitozuma fuzoku (shops where the female employees are married women or divorcees)," he says. "These days the sex business has been lousy since younger men don't have any money. So the seniors living on their pensions have moved in and are providing good support.
"I talk to a lot of deri heru gals about their work, and they say they're always impressed by customers over age 70. Say they never get rough with them and that they're also good with their tongues — which the ladies seem to like, even if the old guys can't get it up," Shimamoto adds.
Another popular activity these days, Shimamoto tells the magazine, are karaoke rooms at restaurants where seniors of both sexes meet for zenra karaoke parties, at which participants strip to the buff. (K.S.)
Source: "Sugamo de ojisan ga 'gaikokujin baishun' shiteiru!" Shukan Asahi Geino (Dec. 23, pages 42-44)
Note: Brief extracts from Japanese vernacular media in the public domain that appear here were translated and summarized under the principle of "fair use." Every effort has been made to ensure accuracy of the translations. However, we are not responsible for the veracity of their contents. The activities of individuals described herein should not be construed as "typical" behavior of Japanese people nor reflect the intention to portray the country in a negative manner. Our sole aim is to provide examples of various types of reading matter enjoyed by Japanese.