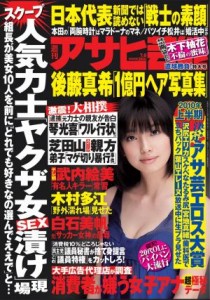 For a rundown of the top-ten stories thus far in 2010 in the fuzoku trade — that is, businesses offering sexual services — weekly tabloid Shukan Asahi Geino (July 8) turned to Yoshikazu Murazaki, the editor-in-chief of monthly entertainment guide Manzoku.
"Shaking the industry the most has been the deri heru (out-call sex shop) debuts of big-name AV actresses Mai Nadasaka and Kei Megumi at club Muteki in Shibuya and Maria Ozawa at Club Tora no Ana," explains the editor.
The magazine adds that AV stars had appeared at such establishments in the past but the recent trend has been with bigger names offering their services. "Over the next three months, we expect that even more girls will make their debut," says the manager of club Muteki.
Ranking second was the June re-opening of Yoshiwara soapland Kakuebi Honten. The magazine supposes that its closing, occurring one-year ago, was due to Tokyo Gov. Shintaro Ishihara's crackdown of sex clubs prior to Tokyo's bid to be the host of the 2016 Olympics.
Amateurs, too, are making an impact, with clubs specializing in university students being among those offering employment. "Most people think that the reason university gals work in the fuzoku industry is because they can't find a job elsewhere in this difficult economy," says Murazaki. "But in fact they simply want to buy a nice handbag, and they can make a decent hourly wage working part-time."
Murazaki says that much of this is due to those belonging to the yutori sedai, or the generation which came of age when educational standards had been lowered — a time generally considered to have begun in the 1980s. "The number of girls thinking like this is increasing," he says, referring to their interest in material pursuits. "They don't have any business sense. But their 'slow' and 'casual' approach is appealing to some customers."
Also among the non-professionals are housewives, specifically known as hitozuma, who are considered cheap, erotic and relaxing. Legislation effective from June placed added restrictions on the availability of consumer loans. The co-signing by a spouse is one example. This requirement might force housewives to seek employment at fuzoku clubs to pay off debts unknown to their husbands, the editor postulates.
Other notables cracking the top-ten include the popularity of Chinese massage parlors in Shimbashi, Ikebukuro and along the Chuo Line, the busting of a huge high-end deri heru service and the closing of publication Tokyo Manzoku News due to competition from the Internet.
Murazaki ends his roundup with a niche category: the hazure fuzokuten (loser sex clubs). Girls staffed at these establishments have been dubbed jirai, literally "land mines," and are very unattractive or overweight, perhaps having failed interviews at other places.
With no substantial service, no hospitality and "land mine looks" (i.e. handle with care), the shops are mainly for maniacs who have a fetish for these types of ladies, the editor says of jirai joints. "Some customers will use them to conclude a batsu game," Murazaki explains, referring to a competition in which the loser must be punished, "and their popularity is on the rise."
The magazine lists deri heru club Uguisudani Dead Ball in Tokyo's Taito Ward as one jirai option. (A.T)
Source: "Kyokushiteki 10 dai nyuusu fuzoku hen Manzoku henshucho," Shukan Asahi Geino (July 8, page 177)
Note: Brief extracts from Japanese vernacular media in the public domain that appear here were translated and summarized under the principle of "fair use." Every effort has been made to ensure accuracy of the translations. However, we are not responsible for the veracity of their contents. The activities of individuals described herein should not be construed as "typical" behavior of Japanese people nor reflect the intention to portray the country in a negative manner. Our sole aim is to provide examples of various types of reading matter enjoyed by Japanese.