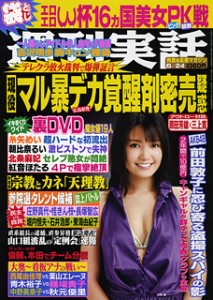 On June 3, the vice squad of the Tokyo Metropolitan Police slapped the cuffs on a baker's dozen of people allegedly involved in a call-girl ring. Shukan Jitsuwa (June 24) reports that Michinori Matsushita (age 31), the operator, was charged with having sent a 27-year-old "campaign girl" to service four male customers at hotels in Tokyo's Shibuya district between March 18 and May 23.
But the cops were astonished to find that the scale of the operation was a lot more than they had bargained for.
"The club operated under 13 different names," a crime reporter for a daily newspaper is quoted as saying. "The number of registered club members was about 27,000, and its revenues over the past two years is estimated to have exceeded one billion yen."
The secret of the success of club "Innocent," or "White Love" — or any of the other names by which Matsushita marketed his ladies — was that it delivered a high-quality product. He is reported to have maintained a stable of 200 females, many of whom, he claimed, worked in show business or as fashion models.
Shukan Jitsuwa managed to track down a former customer who told the magazine, "I was initially wary of their claims about the girls, but for 100,000 yen for two hours, they would send you a budding talent from a TV variety show."
The club offered members a variety of services, including SM and threesomes, with rates ranging from 30,000 to over 500,000 yen.
The vice squad has supposedly got its hands on the club's membership list, and, if reports are correct, is now poring over the names of "several hundred" VIPs, including influential names in Japanese politics, business and showbiz.
"It's expected this will eventually have far-ranging repercussions," the abovementioned reporter predicts. "The police are proceeding carefully with their investigation." (K.S.)
Source: "Kyangaru ga muragatta tonai saidai baishun kurabu tekihatsu," Shukan Jitsuwa (June 24, page 203)
Note: Brief extracts from Japanese vernacular media in the public domain that appear here were translated and summarized under the principle of "fair use." Every effort has been made to ensure accuracy of the translations. However, we are not responsible for the veracity of their contents. The activities of individuals described herein should not be construed as "typical" behavior of Japanese people nor reflect the intention to portray the country in a negative manner. Our sole aim is to provide examples of various types of reading matter enjoyed by Japanese.