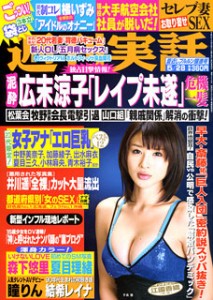 Yukino, age 23, became a mother five months ago. She subsequently took up employment at Mother's Milk, an Osaka sex shop offering services dispensed by expectant and nursing mothers.
"I'm still lactating a huge volume, so my customers are delighted," she gushes to Shukan Jitsuwa (May 28).
Motherhood has inflated Yukino's breasts to 95 centimeters, and she's gung-ho to provide enrichment by the G-cup to male guzzlers.
"Wanna try some?" she invites the reporter. "I don't know if it's tasty or not."
Finding the offer irresistible, the reporter sucks tentatively at Yukino's nipple and is startled by the rich flavor.
"Some customers will spend their whole session nursing; I'm worried they'll suck me completely dry and there won't be enough for my baby," she giggles.
The services offered at Mother's Milk generally involve fondling, licking, and nibbling female employees' breasts. The reporter even runs Yukino's along the length of his "meat stick" over which he squeezes out a milky shower.
Yukino apologetically remarks she is not skilled at oral sex, but the reporter is thoroughly impressed by her deep throat ministrations. For the grand finale she straddles his torso and milks him dry with a sumata massage using her external labia.
"I felt like I was violating a sacred object, and committing a kind of immoral act," Shukan Jitsuwa's reporter admits. "That made it all the more exciting." (K.S.)
Source: "Watashi no oppai sugoku bimishii yo," Shukan Jitsuwa (May 28, page 223)
Note: Brief extracts from Japanese vernacular media in the public domain that appear here were translated and summarized under the principle of "fair use." Every effort has been made to ensure accuracy of the translations. However, we are not responsible for the veracity of their contents. The activities of individuals described herein should not be construed as "typical" behavior of Japanese people nor reflect the intention to portray the country in a negative manner. Our sole aim is to provide examples of various types of reading matter enjoyed by Japanese.