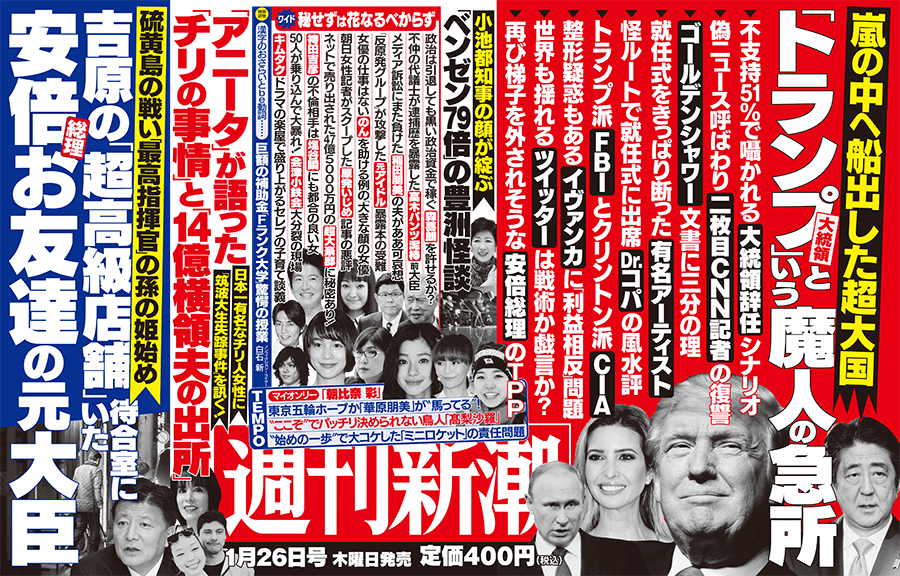 There is a classic rakugo story titled "Wakareko" in which a character named Kumagoro visits Tokyo's brothel quarter of Yoshiwara following a funeral.
Centuries ago, this jaunt was used by Tokyoites, or so legend has it, as a valid reason for being serviced at one of the quarter's bathhouses after laying one to rest, an act that was collectively considered a form of replenishment.
According to Shukan Shincho (Jan. 26), one notable Liberal Democratic Party politician, in fact a former minister in the administration of Prime Minister Shinzo Abe, appears to have resurrected that tradition.
On January 10, Yoshitaka Shindo, 58, visited a high-end soapland bathhouse in Yoshiwara following a funeral for one of his supporters in Kawaguchi City, Saitama Prefecture.
According to the magazine, Shindo departed the Diet Members' Building in Nagatacho, Chiyoda Ward inside a black Toyota Alphard at 5:33 p.m. The politician then spent an hour at the funeral before heading back to Nagatacho.
After a quick stop back at the Diet Members' Building and again in front of a Lawson convenience store in Tameike-Sanno, the vehicle hopped onto an expressway in the direction of Yoshiwara.
Upon its arrival at just before 9:00 p.m., the lawmaker is shown in a photograph supplied by the magazine entering one of the many bathhouses under the name "Yamazaki," paying a total of 80,000 yen (30,000 yen for the bath and 50,000 yen for the awahime, or soap princess). He departed the premises shortly after 11:00 p.m.
Shindo is currently serving his sixth term in the House of Representatives.  In 2012, Abe added Shindo to his cabinet as minister of the Ministry of Internal Affairs and Communications.
Known for his regular visits to the controversial Yasukuni Shrine in Tokyo, the politician is a prominent member of nationalist group Nippon Kaigi, which aims for "a beautiful traditional sovereignty for Japan's future."
However, it seems Shindo is not eager to discuss the tradition of Kumagoro and his visit to the bathhouse that evening.
When confronted by Shukan Shincho four days after the visit, Shindo refused to answer a number of questions (for example,"What type of girl did you choose?"). After growing tired of the reporter's incessant pestering, he finally referred to the visit as "a private matter."
Source: "Yoshiwara no 'chokokyu tenpo' machiaishitsu ni ita Abe sori o tomodachi no moto daijin," Shukan Shincho (Jan. 26, pages 44-47)
Note: Brief extracts from Japanese vernacular media in the public domain that appear here were translated and summarized under the principle of "fair use." Every effort has been made to ensure accuracy of the translations. However, we are not responsible for the veracity of their contents. The activities of individuals described herein should not be construed as "typical" behavior of Japanese people nor reflect the intention to portray the country in a negative manner. Our sole aim is to provide examples of various types of reading matter enjoyed by Japanese.