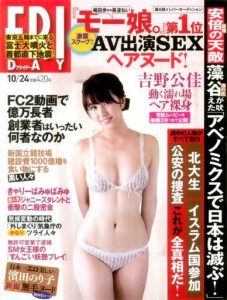 In the early morning hours of October 2, Tokyo Metropolitan Police busted an SM club in Shinjuku Ward for allegedly offering illicit services while licensed as a restaurant.
Referred to as a "mistress bar," Saddle, which is located near JR Yotsuya Station, specializes in "allowing perverted men to worship women," as explained on its Web site.
According to weekly tabloid Friday (Oct. 24), the club lives up to its billing — and then some.
"Upon entry to the bar, the customer is ordered by strip down such that he is attired only in underwear briefs," says a writer covering Japan's SM scene. "The garment is so snug that any sexual stimulation on his part becomes very obvious, upon which he receives a thorough whipping from the queen out of punishment."
Officers arrested Kozue Osugi, the bar's 41-year-old manager, for offering such services as stimulating male customers with needles and spraying their faces with urine — referred to as "holy water" — as dispensed from a female employee.
According to the SM writer, customers tend to be elite employees at big companies, such as megabanks.
Since opening five years ago, Saddle collected 60 million yen in revenue. An average of 100 customers visited the bar each month.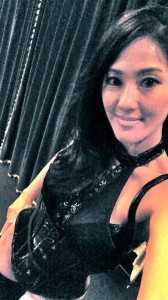 "The queen (Osugi) goes by the name 'Yayoi,'" says a 48-year-old customer. "The bar has a counter with seven or eight seats. Yayoi and one other woman are usually there, and they'll persecute the slaves (customers) seated across. After providing a blindfold or ball gag, she'll whip the customer between his legs."
Male customers could also be forced into cleaning the bar's toilet while naked. Should that not prove satisfactory, the club also supplied steel chains in which one end was connected to the queen's wrist and the other fastened with a clip for the nipples of a customer.
"If she reached for a cup of alcohol, for example, the chain would tug at the guy while he was seated," continues the aforementioned customer. "This caused a strong, erotic sensation in which the slaves were always guaranteed to get it up."
During the raid, officers seized ropes, studded belts, gimp masks and high-heeled boots and the aforementioned gags, whips and chains.
Yayoi entered the SM business after working as a bar hostess. In an interview for an SM position, according to Friday, she indicated that she began having sexual yearnings from an early age and began masturbating when she was four.
"Yayoi was once the number-one girl at an SM club in Roppongi, and in the entire industry she is well regarded," a person affiliated with Saddle tells the magazine. "She does quite well, living in an apartment in Minato Ward in which the rent is 300,000 yen per month."
In spite of two warnings from law enforcement about its operations over the past two months, the bar maintained its business plan. "Since cash flow was so severe, we continued as before while knowing it was wrong," Osugi was quoted by police.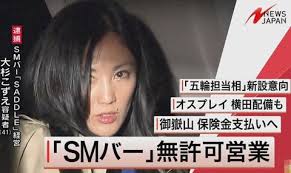 Entry fees at Saddle for men begin at 8,000 yen for the first hour, while women are charged the same price for an indeterminate period.
"Recently, she (Yayoi) has complained about a deterioration in business," continues the Saddle insider. "The average customer was only running up a bill of 10,000 yen, and with a system whereby customers require an introduction the reality is that it is difficult to do business."
When Friday's reporter visited the bar after the bust, a poster on the door indicated that it was permanently closed. A message on the bar's Web site from Yayoi thanks customers for their support. "Punishment awaits those who violate the law," she reminds her slaves. (A.T.)
Source: "Mu kyoka de taiho sa reta SM joo-sama no 'sun-goi yoen purei,'" Friday (Oct. 24, pages 30-31)
Note: Brief extracts from Japanese vernacular media in the public domain that appear here were translated and summarized under the principle of "fair use." Every effort has been made to ensure accuracy of the translations. However, we are not responsible for the veracity of their contents. The activities of individuals described herein should not be construed as "typical" behavior of Japanese people nor reflect the intention to portray the country in a negative manner. Our sole aim is to provide examples of various types of reading matter enjoyed by Japanese.