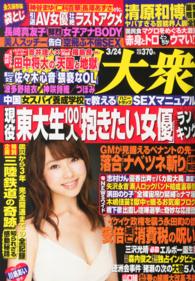 Before his death at the age of 79, Oniroku Dan authored some 120 works of erotic fiction involving sadism and masochism. About 50 were eventually adapted into films — including "Hana to Hebi" (Flower and Snake), which spawned two sequels.
A third, titled "Flower and Snake Zero," will hit theaters in May, and, according to Shukan Taishu, the film's salaciousness would likely not disappoint Dan.
"It reaches the limit of sensory expression for a film open to the public," a film critic tells the magazine. "For eroticism, this will go down in Japanese film history."
"Zero," directed by Hajime Hashimoto, includes the usual heroine of the series, Shizuko, played by Noriko Hamada, and two additional female characters (Maiko Amano and Rina Sakuragi).
The critic says that the middle-aged fans of Hamada will be overwhelmed with her ability to play a sexy older woman (jukujo) in bondage scenes, especially in how she appears to not be acting in conveying the inflicted pain.
"You can see that she is an M-type," says the critic.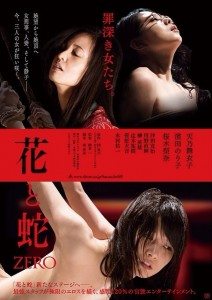 The screenplay by Takehiko Minato ("Be My Slave") goes back to the original "Flower and Snake," the 2004 film by Takashi Ishii that stars Aya Sugimoto.
Shukan Taishu says that the two-hour film is a roller coaster of suspense that begins with Amano's character investigating an illegal video site and culminates with a spectacular torture scene.
Fully nude, the three women find themselves bound and suspended in mid air, whereupon they all begin urinating.
"Within the darkness, there is this glistening three-stream parabola — a 'female fountain,'" says the critic. "After a private screening for media, that scene was the topic of discussion in the lobby."
Source: "Ninki SM eiga saishinsaku 'Hana to Hebi' Hamada Noriko 'zenra chuzuri kinbaku honyu," Shukan Taishu (Mar. 24)
Note: Brief extracts from Japanese vernacular media in the public domain that appear here were translated and summarized under the principle of "fair use." Every effort has been made to ensure accuracy of the translations. However, we are not responsible for the veracity of their contents. The activities of individuals described herein should not be construed as "typical" behavior of Japanese people nor reflect the intention to portray the country in a negative manner. Our sole aim is to provide examples of various types of reading matter enjoyed by Japanese.