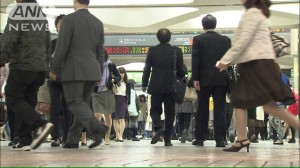 TOKYO (TR) – Tokyo Metropolitan Police on Tuesday arrested a former organized crime member for stabbing an 18-year-old boy inside JR Shinjuku Station, reports the Sankei Shimbun (Apr. 22).
On Sunday at 10:35 p.m., Yuko Hoshi, 62, is alleged to have cut the head of the victim, a high school student, near the ticket gate of the station's West Exit.
The boy received minor injuries to his head.
"I intended to kill," the suspect is quoted by police.
The incident began on the platform of Suidobashi Station, from where the suspect called out to the boy in an angry voice. The youth then boarded the train for Shinjuku and the suspect followed.
Upon reaching Shinjuku, the suspect, who is believed to have been drinking, approached the boy and his 17-year-old companion near the exit. After he drew the scissors and slashed at the boy, he was apprehended by the youths and handed over to station personnel.