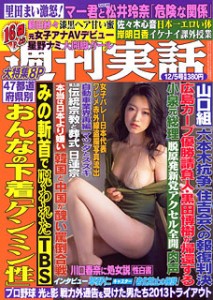 Earlier this month, Tokyo Metropolitan Police cracked down on a traditional Thai massage parlor in Minato Ward for offering sexual services.
Shukan Jitsuwa (Dec. 5) says that law enforcement's focus on illegal Chinese and Korean establishments in recent years has allowed Thai parlors offering similarly erotic services to flourish.
On November 9, officers raided Gamurai Thong, located in the Shimbashi district, and arrested the 46-year-old Thai manager, Jeeranan Suzuki and three female Thai employees for providing sexual services to a 47-year-old male office worker — a violation of the Law Regulating Adult Entertainment Businesses.
According to the parlor's Web site, stretch services begin at 5,000 yen for the first hour, while oil treatments start at 6,000 yen for the same period.
A writer covering the fuzoku trade, which is the adult-entertainment industry, tells the magazine that ejaculation options are readily available at certain traditional Thai parlors.
"The so-called 'nuakai' option is a testicle massage," says the writer. "It's a popular means of rejuvenation."
But not all parlors offer this service.
"In big cities, it is an off-the-menu option," continues the writer. "The masseuse will let the customer stiffen up and she'll offer relief with her mouth or fingers. Further, there's also the availability of honban (or full sex)."
Such a routine is similar in nature to that offered by Chinese and Korean establishments, which are routinely targeted by law enforcement. However, Thai parlors usually get a free pass.
"Police are not as strict with the Thai joints," says a person employed in the fuzoku industry. "A lot of it has to do with anti-Japan sentiments (in Korea and China)."
As a result, there has been a distinct increase in the number of Thai parlors in Japan.
"The reason is that Japan's economy has been steadily improving," says the aforementioned writer. "More Thai women want to come to Japan."
In the case of Gamurai Thong, police said the parlor regularly hires female overseas exchange students.
"Since these women were children they were taught traditional Thai massage by their mothers," continues the writer. "So it is easy to find work. As to the offering of sexual services, that will be a distinguishing factor in separating one particular parlor from the rest." (K.N.)
Source: "Tekihatsu ha hyozan no ikkaku kageki kasuru koshiki Tai massaaji no noko saabisu," Shukan Jitsuwa (Dec. 5, pages 49-50)
Note: Brief extracts from Japanese vernacular media in the public domain that appear here were translated and summarized under the principle of "fair use." Every effort has been made to ensure accuracy of the translations. However, we are not responsible for the veracity of their contents. The activities of individuals described herein should not be construed as "typical" behavior of Japanese people nor reflect the intention to portray the country in a negative manner. Our sole aim is to provide examples of various types of reading matter enjoyed by Japanese.