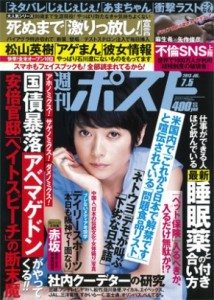 Weekly tabloid Shukan Post (July 5) spots a group of four geisha striding through the streets of the busy Akasaka entertainment area.
With coiffured hair and colorful kimono, the magazine says she represents art and sophistication — but also an institution that is slowly fading away.
There was a time, decades ago, when 400 geisha sang and danced in 60 ryotei (a high-end restaurants) in the district. Nowadays, there are six establishments employing a mere 25 such performers.
At the start of Japan's rapid economic ascent in the 1950s, politicians in nearby Nagatacho used this quarter as their own playground. The decline began in the late 1970s, when restrictions were placed on the utilization of public funds by bureaucrats for entertainment.
Nakagawa, the ryotei favored by former Prime Minister Kakuei Tanaka, shut its doors in 1982. The site is a now a multi-tenant building. The tabloid says that after the collapse of the asset-inflated "bubble" in early 1990s many similar structures started replacing the older, traditional buildings throughout the district.
Today, Akasaka's streets are abuzz with activity. Restaurants, bars — many of which offer Korean hostesses — and pachinko parlors line the streets. Touts for the businesses roam the streets in search of customers. One geisha, who was been in the trade for 49 years, says that such a scene would have been unimaginable years ago.
"When I'm looking at these types of people, I want to remind them that was our town," she says. "But, time marches on."
She says that it is up to remaining entertainers to keep the tradition alive. "I want to do my best to improve my singing and dancing," she says. "I'd like to convey to people that Aksasaka was about an artistic and splendid culture." (K.N.)
Source: "Akasaka geisha ha ima doko ni," Shukan Post (July 5, page 20)
Note: Brief extracts from Japanese vernacular media in the public domain that appear here were translated and summarized under the principle of "fair use." Every effort has been made to ensure accuracy of the translations. However, we are not responsible for the veracity of their contents. The activities of individuals described herein should not be construed as "typical" behavior of Japanese people nor reflect the intention to portray the country in a negative manner. Our sole aim is to provide examples of various types of reading matter enjoyed by Japanese.