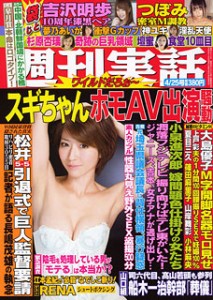 On April 1, Tokyo Metropolitan Police began implementing a new tactic for cracking down on so-called joshi kosei (high-school girl) "reflexology" massage parlors.
The establishments, which on the surface offer foot and hand massages, have come under scrutiny in recent years since they also provide a number of options that require highly intimate contact that violates of the Labor Standards Act regarding harmful employment.
Shukan Jitsuwa (Apr. 25) says that instead of simply arresting the proprietors of the shops the girls will now be considered complicit in the alleged crimes.
Three days after the new policy came into effect, police raided a joshi kosei rifure (high-school girl reflexology) parlor in the Akihabara district. Investigators took 11 girls, with ages between 15 and 17, into "protective custody."
In a citywide sweep of 17 parlors in January, 76 of the 115 employees on the premises at the time of the raids were minors. At that time, the girls were merely afforded the "care" of the police.
Dubbed "JK rifure" for short, the parlors began to increase in number Akihabara and Ikebukuro one or two years ago.
For background, a regular customer in his 30s tells Shukan Jitsuwa that basic entry to such establishments costs 4,000 yen for 30 minutes. "The shops are partitioned into private rooms by curtains," says the regular. "Two girls will provide shoulder rubs and ear-cleaning services."
For an additional 2,000 yen, the source says, the girls will offer hugs or the use of their thighs as pillows. But other off-the-menu services also exist. "For 2,000 yen, she'll show her underwear. For 5,000 yen, she'll massage her breasts, and for 10,000 yen she'll masturbate through her panties."
Given this, it is not surprising that law enforcement became concerned that the shops had become a hotbed of enjo kosai (compensated dating), much as had deai-kei "encounter" cafes. There is concern, however, that the new measure will cause the girls to move on to work as independent contractors not attached any shop.
A girl going by the name Nami says she worked at a panty-peeking parlor until it was busted. She then switched to a JK rifure shop, but she says she'll retire as she finds the new policy of the police to be disagreeable. "I've got the contact information for my former enko customers," she says referring to her Johns, "And I'm thinking I'll get by that way."
A writer covering the sex trade says that the money on the table is too attractive. "A girl could pull in 40,000 to 50,000 yen via the off-the-menu options," says the writer. "So they'll strive to establish independent work. Certainly, there are plenty of customers interested in their services." (K.N.)
Source: "Hodosha zokushutsu ga hakusha wo kakeru yami 'JK rifure' no koji eigyo," Shukan Jitsuwa (Apr. 25, page 45)
Note: Brief extracts from Japanese vernacular media in the public domain that appear here were translated and summarized under the principle of "fair use." Every effort has been made to ensure accuracy of the translations. However, we are not responsible for the veracity of their contents. The activities of individuals described herein should not be construed as "typical" behavior of Japanese people nor reflect the intention to portray the country in a negative manner. Our sole aim is to provide examples of various types of reading matter enjoyed by Japanese.