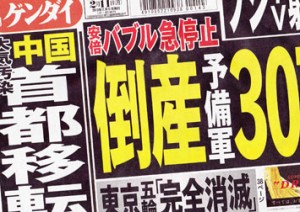 The Horinouchi district of Kawasaki City, just across the Tama River from Tokyo, is well known for its cut-rate soaplands (erotic bathhouses). One particular establishment, reports Nikkan Gendai (Feb. 11), appeals to men with yen by offering costume play to go with its other delights.
The reporter first attempted to enter a shop, referred to in this review only as "E," that is well known as a gyaru-kei, i.e., specializing in masseuses who are on the young side, or who at least can pass for less than their actual age.
E's other attraction is its low price: just 5,000 yen for a 45-minute session, with charges for extra services to be negotiated.
But it seems that "E" requires reservations and an encounter with one particular sweet young thing requires a 3-hour wait. Since the reporter describes himself as feeling akin to ueta ookami (a hungry wolf), he's in no mood to wait. He goes off in search of another establishment and stumbles upon "R," a kosupure specialty shop that charges 24,000 yen, all-inclusive, for 90 minutes. This actually makes it, on a per-minute basis, cheaper than "E." And there's no extra charges for costume changes!
The reporter requests that his masseuse make her appearance clad in a school uniform. After a 20-minute wait in the first-floor lounge, he is greeted by a "yankee" (delinquent) type with dyed blond hair and jangly oversized pierced earrings, dressed, as requested, in a schoolgirl's middy blouse — but looking like an extra right out of the 1980s Toei film series, "Be-bop High School."
Of all the varieties of costume play, she confesses, playing a giggly teeny bopper is the most difficult for her.
Once in the private room, she gets right down to business.
"Lie down over here and I'll suck you," she commands, gesturing at the massage table. Once he's good and stiff she strips to the buff — revealing a slightly chubby figure — straddles him and he ejaculates in seconds.
"Hey, I was hoping we could enjoy ourselves for a while longer," she says in a disappointed tone of voice.
Determined to get the most from his erotic experience, he flips her over and begins to perform oral sex. She responds by making satisfied moans, praising his tongue technique as joozu (skilled).
Before too long he's ready to rock-and-roll again. But with this particular female, he says, his yearning to relive his sweet bird of youth turned out to be more like a disappointing dinner of slightly piquant sweet-and-sour chicken. (K.S.)
Source: "Seeraa-fuku no kosupure de amai seishun no omoide wo saigen suru tsumori ga…," Nikkan Gendai (Feb. 11, page 32)
Note: Brief extracts from Japanese vernacular media in the public domain that appear here were translated and summarized under the principle of "fair use." Every effort has been made to ensure accuracy of the translations. However, we are not responsible for the veracity of their contents. The activities of individuals described herein should not be construed as "typical" behavior of Japanese people nor reflect the intention to portray the country in a negative manner. Our sole aim is to provide examples of various types of reading matter enjoyed by Japanese.